Today I am talking about four precious trees and top organic farming secrets that will help you to grow these trees and other crops healthy in long run. The marketplace from where you can purchase genuine saplings is also disclosed here.
These are the best among the best trees. If you will plant any one of them you will surely make a good income after 8 to 10 years.
Mahogany Sandalwood Agarwood Bamboo tree farming Profit
Mahogany tree
You might not hear about this tree but I have already mentioned most things about this tree. It is an endangered tree and farmers are not doing its cultivation on a good scale. Farmers from the West and South Indian regions have recently started their cultivation but farmers in North India are still not aware of this tree. This is the reason the whole of North India is still growing poplar trees.
I am very much sure after knowing the price of the mahogany tree you will start its cultivation ahead of poplar trees. After 8 years the price of one poplar tree varies between Rs 2000 to Rs 4000 only but after 8 to 10 years the price of a mahogany tree is a minimum of Rs 10,000 and this is a straight timber that does not occupy much space also does not need much care.
How to start mahogany cultivation pdf
The speciality of this tree is it doesn't demand fertilizer. Instead, the tree is capable of making self-fertilizer with its leaf. More importantly, the tree does not need much water and can survive in almost any place except heavy snowfall regions. One can purchase genuine African mahogany saplings in bulk from a trustworthy source manvsgreen.com. You will also find other saplings here but you have to book at least 500 saplings to confirm your order. This is the platform where you get quality saplings at the cheapest price so try it once and share your feedback here as well.
After investing Rs 475,000 in 10 years one can earn Rs 92,25,000 net profit in the 1-acre farm.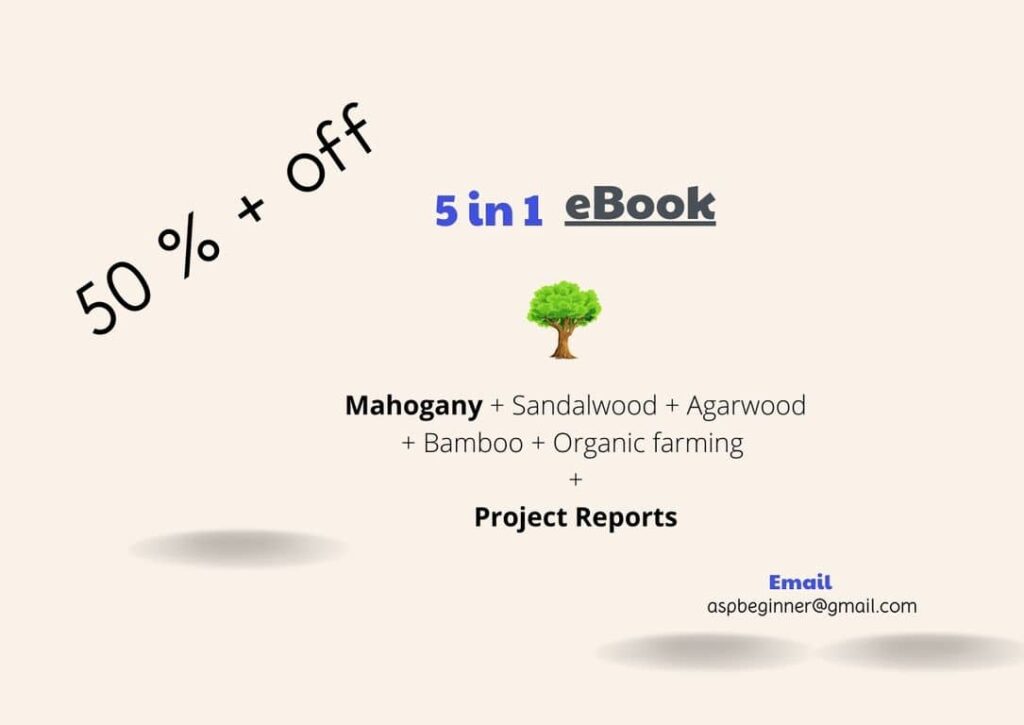 Buy 5 in 1 eBook from the top menu bar eBook option.
Sandalwood
Sandalwood is a well-known name and we all know about this precious tree. The fact is that very less farmers are doing the cultivation of sandalwood due to some myth about it. In 2023 still people believe that growing sandalwood trees is banned in most places and they are living in one of the places. This is absolutely a myth and the wrong way of thinking one must enquire about the information from reliable sources and then make any decision.
Farmers in India do not need government permission to grow sandalwood in their regions however they need permission for harvesting this tree. Due to sky-touching prices, the government also want to capture this revenue source therefore they have made some guidelines not for cultivation but for harvesting. The guideline is simple during harvesting you have to inform the government and must sell sandalwood through the government channel.
How to plant sandalwood tree in India
The government will provide you with a buyer or they might purchase it from you directly at decent prices. Another myth people still believe is that growing sandalwood is risky because the aroma attracts snakes and they start living on them which is absolutely rubbish. The fact is these trees do not have any aroma till 8 years and the story of snakes was spread by our ancients to save this precious wood from thieves. 
However, the cultivation of sandalwood needs good care and it is costly due to the need for an equal or double amount of host plants which also increases the fertilizer, water and other costs.
After investing Rs 7,88,00 in 10 years farmer can earn Rs 2 crore net profit in the 1-acre farm.
300 Sandalwood trees per acre 600 hosts
Agarwood 
Agarwood is a precious tree mostly grown in the western regions of India. Your eyes may remain open after seeing the price of agarwood trees after 10 years. Yes, this is one of the most expensive trees in the world but at the same time, it needs good care and fertilizer to build a good amount of resin. Resin is a black substance present in agar trees and has an actual market value. As the name suggests agarwood is used for making agarbatti its resin is used for making precious medicines. One must be more alert while purchasing saplings of agar trees because the tree should be genuine to produce the actual resin which has great demand in the national and international markets instead of its wood.
After investing Rs 10,53,000 for 08  years one can earn Rs 9,89,47,000 net profit in a 1-acre farm
Bamboo Farming 
In India bamboo is now in the category of grass therefore anybody can grow this stick anywhere. Earlier it was limited to some places only but now the government is targeting this precious tree therefore they are running the national bamboo mission under which farmers can get a good subsidy for bamboo plantation.
After investing Rs 5,84,000 for 05 years you can earn Rs 9,16,000 net profit per acre.
Read this – Bamboo farming profit in 1 acre
Organic farming 
I believe the organic farming model is best for long-term crops because it needs time to deliver the results and trees are long-term crops. Organic farming is sustainable farming in which plants get real and pure nutrients which strengthen them from the core.
Preparing organic fertilizer – 100 kg cow dung, 2 kg jaggery, 2 kg gram flour, 2 kg soil 
100 kg cow dung – Dry it for 4 to 5 days
20 kg jaggery with cow urine – Fill in a drum 
Now mix 20 kg jaggery and cow urine with 100 kg cow dung and add 2 kg gram flour, and 2 kg soil. After mixing all these in the given ratio your organic fertilizer is ready to use.
Read More
Mahogany tree price chart 2023
From where I can buy African mahogany plants in bulk
Yes 1 acre bamboo farming is profitable
Agarwood inoculation process explained