Hello farmers, today we are here with a special and one of the most valuable tree cultivation. We will help you to find mahogany tree price in India. We will also help you to make your tree investment plan by sharing mahogany tree selling price in India. This tree guide will provide best farming practices including correct soil selection, temperature, water, Fertilizer etc. This farming profit guide will provide information about Mahogany plants and cover all the important aspects regarding mahogany plantation per acre 
Knock Knock – If you are in search of such a tree that does not demand much care and water then believe us mahogany tree is the best choice for those who can't or don't want to give more time to farming. If your lands are vacant in your village or they are turned into barren land no worries you can plant mahogany trees in any soil and climate conditions. Hurry up! And don't waste your time start mahogany cultivation immediately. You will get each and every necessary information about mahogany tree cultivation in this comprehensive post. 
Mahogany tree information
top; it has long stems and the tree looks like reddish-brown timber. Mahogany is timber of 3 tropical hardwood species belonging to the genus Swietenia and indigenous to the Americas. Mahogany belongs to the Meliaceae family and it is widely used commercially for its shining colour, tonewood quality and durability. Mahogany is a national tree of the Dominican Republic and Belize. 
Mahogany cultivation in India 
Mahogany cultivation in Karnataka, Telangana, Tamilnadu and in the south Indian region is gaining popularity day by day due to its climate adopting quality and it is one of the best high-value timber trees in India. People are still not aware in North India and are not doing mahogany cultivation on a large or medium scale however some farmers started mahogany tree plantation in Uttar Pradesh north region. Our motive is to spread the knowledge of tree cultivation in India and people should save trees by starting tree farming and save the environment by planting trees widely. 
Although mahogany tree plantation in Bihar, Mahogany tree farming in Punjab, Maharashtra, Gujarat, Karnataka, Andhra Pradesh etc has started but still needs a boost to get the required achievement that this tree deserves. We are always in search of such trees,  crops or weed farming that can produce higher returns in less time, with less care. However, any tree farming needs at least 8 to 12 years but crops and weeds need less time to grow. If you think similar to us then you are most welcome to join our Telegram Group so that in future whenever we will find out such cultivation we can inform you easily. You are enjoying reading here, keep reading till the end to explore more.
Mahogany tree growing zones
Mahogany is important tree as per tree income but the truth is it is an endangered tree meaning the species of mahogany can collapse after a few times due to less cultivation of mahogany trees. From our point of view, this is a golden opportunity for every farmer who wants to earn good money by investing in trees. It is a forest tree and grows easily in tropical and subtropical regions. The best thing about this tree is its climate adopting or temperature tolerating capacity. However, a temperature less than 40 degrees Fahrenheit or 4.4 degrees celsius is not good for this tree. The mahogany tree thrives best in hot and humid temperatures native to south Florida. Mahogany trees in India can grow throughout India except in the places where snowfall occurs regularly. The weather of India is versatile, however, snowfall occurs in some regions but that is also for very less time and in very few places. It means mahogany plantation in India can be done from north places such as Uttarakhand, and Himachal to south places such as Kerala, Karnataka, Kanyakumari etc. While talking about east and west farmers are able to grow mahogany trees in Andhra Pradesh and mahogany tree plantations in Gujarat, Punjab is also taking place for a few years. 
Where to sell mahogany tree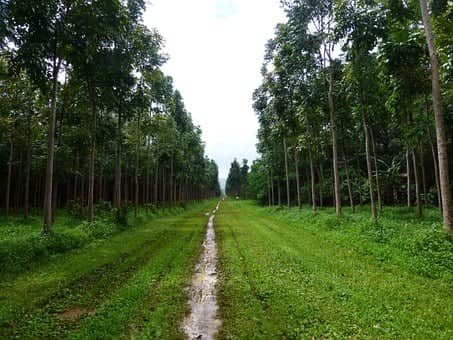 Mahogany important information – Before starting the mahogany cultivation it is quite obvious when people ask where can I sell my mahogany wood?  Where to sell mahogany wood in India? The answer is the mahogany wood market is vast due to mahogany uses in vital areas including the musical industry, furniture industry, ship and boat part making industry, stick factory, perfume industry etc. These are some options where you can easily sell mahogany wood or furniture.  To get a well-researched mahogany tree farming project report click the link.
Mahogany tree species 
There are 3 species of mahogany tree: Honduran mahogany, West Indian Mahogany or Cuban Mahogany and Swietenia humilis.  
Mahogany tree varieties (True mahogany varieties)
Varieties of mahogany tree are given below
African genera khaya (Famously known as African mahogany)
Indian mahogany
Chittagong (Indian mahogany)
Chukresia velutina
Crab wood carapa guianensis 
Entandrophragma (Sapela mahogany)
Indonesia mahogany
New zealand mahogany or kohekohe (Dysoxylum spectabile)
Toona Sureni
Toona ciliata
Pink mahogany or bosse
Guarae
So these are the types of mahogany tree in India
Mahogany tree farming in India 
Mahogany tree cultivation in India – Mahogany tree price is praiseworthy and by selling only one mahogany tree (10-year-old tree) you can purchase a smart android mobile phone easily. The mahogany tree is not sold for its weight, the pure value is for its girth and it is sold according to the ghan feet or cubic feet. Mahogany is a light weighted reddish Timber widely used for commercial goods and products such as ship decks, guitar necks, gun but, mahogany furniture etc. The sad thing is that Indian farmers are still growing paddy, wheat and sugarcane on a very large scale for survival, they are not thinking about the future. The Indian government has also taught farmers several times to stop growing sugar cane and start biofuel farming. According to Minister Nitin Gadkari upcoming plan of the government is to replace petrol with electric vehicles. The government is also encouraging farmers to do mixed cropping including tree farming.
When it comes to tree farming there are few trees that can unexpectedly raise the income of farmers 10X to 100X times. Some of the trees for better earnings are mahogany trees, Agar trees,  Sandalwood trees, coconut trees etc. If you need information for any of these trees you can just click the link and a related article will open in front of you. Farmers were doing sandalwood cultivation in Maharashtra and now some of them have also started mahogany tree farming in Maharashtra but they need good guidance and if you need the same then we advise you to look once at our 5 in 1 ebook containing Mahogany + Sandalwood + Agar tree + Organic farming + Bamboo cultivation. Some farmers are already getting advantages of high-quality information including well researched "Project Reports" and "Farming Best Practices" related to each farming in this ebook. You can share this post via twitter, facebook, Insta etc if you want to spread the knowledge among your friends and colleagues.
Mahogany tree price in India 
Always remember the price of mahogany wood is measured by ghan feet; it is not measured by its weight like other trees. Mahogany wood is a light weighted wood but strong in quality and has good durability.
Price of 1 mahogany tree varies between Rs 10 thousand to Rs 30 thousand accordingly. Mahogany wood is measured by its cubic feet. 
1 Mahogany plant price in India is classified in 2 parts: simple mahogany plant and best quality plant. Simple plant price varies between Rs 15 – Rs 30 and best quality plant varies between Rs 50 to Rs 100 depending on variety and quality. 
Mahogany wood price Canada may differ from the tonewood price in India due to the global and demand difference. 
Mahogany tree price after 10 years in India
Mahogany tree selling price after 10 years may reach between Rs 15,000 to Rs 20,000 as per the ghan feet dimension. 
Mahogany tree price after 15 years Might be between Rs 20 k to 35 k if the development of ghan feet was found appropriate. 
Mahogany tree price after 20 years
If the demand keeps growing continuously for mahogany wood then the market price of mahogany wood may even touch Rs 50 thousand for a single tree if a solid cubic feet is measured. 
Mahogany tree wood uses 
Mahogany tree income is higher because mahogany tree wood is used commercially in vast fields throughout the world. The qualities of the Mahogany tree are beauty, colour and durability. Mahogany wood is widely used to make furniture, boat parts, ship decks, gun butts,  guitar necks, and furniture for hotels including 5-star hotels. Mahogany wood rot resistance quality made it preferable for boat and ship constructions. Mahogany is also known as tonewood meaning the wood which can create praiseworthy sound hence it is widely used in the musical industry for making guitar bodies, veena, drum shells etc. Enjoying the post very much keep reading and catch FAQ at the bottom prepared for you.
Mahogany tree facts
Some people often think growing mahogany is legal or illegal. Growing mahogany is not illegal in India however, you can approach your forest department if starting the mahogany cultivation commercially on a large scale. Whereas there is no specific subsidy on mahogany but you can still get a mahogany tree subsidy.
FAQ
How many mahogany trees per acre can we plant?
500 to 1000 plants can be planted with different spacing.
What is the soil required for a mahogany tree?
Loamy soil with a good drainage system is the best soil for mahogany trees.
What is the price of an African mahogany tree?
African mahogany tree price after 10 years might be between Rs 15,000 to Rs 20,000.
Can I grow a mahogany tree in India?
Yes, it is an easy growing tree. One can easily grow mahogany trees anywhere in India due to its soil friendly nature,  less water requirement and climate adopting capacity.
How long does it take to grow a mahogany tree?
African mahogany trees need 10 years to grow whereas desi mahogany trees required 25 long years to grow.
Which mahogany tree is best for cultivation?
Without any doubt always pick African mahogany trees for cultivation.
What is the mahogany tree price in Kerala?
Mahogany wood price in Kerala is on the higher side and the 10-year-old mahogany tree selling price varies between Rs 15k to 20k.
What will be mahogany tree price in Bihar after 10 years?
Mahogany tree price in Bihar after 10 years may reach Rs 17k to Rs 21k per tree accordingly.
Read More on Mahogany Tree