India is a country of agriculture and approximately 55% to 60% of people are dependent on cultivation and some are doing agriculture business as well. Unfortunately, the government is failing in this sector. If a nation's 60% population is doing work in a specific field and not able to contribute to the GDP as per their numbers, it means the government is not working on a good practical road map, it is not helpful for any country. 
In this post, I have mentioned some problems of Indian agriculture, its drawbacks and their solutions and how govt can increase farmers' earnings resulting in Indian GDP growth.
Drawbacks of agriculture in India and solutions
According to the Indian government, they have made some schemes on paper and all the ruling government politicians used to appreciate their own back. Figures tell the truth as we all know 55% to 60% of Indian people are involved in agriculture for their survival and businesses. If most of the farmers are really doing successful cultivation then why is GDP not growing at the required speed? 
40% of other sectors contribute more to GDP than 60% of farmers
Approximately 60% of people are in the agriculture sector and the remaining 40% people are involved in other sectors such as banking, automobile, finance, transport, food, medical, entertainment, sports, garments, cosmetics pharma etc. The tragedy is that the 40% sector is contributing more to GDP than the 60% sector. It is a harsh truth which shows the reality of Indian government schemes for agriculture.
Human body 75% water India country body 60% farmers
As we know the human body contains 75% water. What if you do not get the required water for a longer period or only get 25% of water? A person drinking only 25% water may also live with some physical and mental problems and his body will not behave accordingly. Similarly, if India's body consists of 60% agriculture but they are not able to perform or not able to contribute as per their strength in GDP then how can our nation become a developed nation? 
Read this – Agriculture science research school dream project
Unless and until the agricultural sector grows, India cannot become a developed nation. It will remain a developing nation for several more years. The other option is if other sectors are performing then improve the ratio of other sectors from 40% to 75% and decrease the ratio of agriculture from 60% to 30%. However, growing against nature is always harmful.
Practical improvement is the only answer which can increase the earnings of farmers. If farmers' earnings increase they will pay higher tax which means 60% of people will pay higher taxes resulting in GDP growth i.e. moving to become a developing country.
In the current situation higher earning and high tax is far away farmers are not even able to clear their burrows. 
The Government also knows that if more people will pay more tax then it will help the nation grow but they don't have any good practical roadmap for increasing the earnings of farmers. 
Loan apply difficulties
Let me share some personal examples. I visited the kvk centre where the officer gave me basic information. The way he explained he was looking in a hurry and he did not answer all my questions as well. I visited Indian Overseas Bank, State Bank and Punjab National Bank and I am sorry to say that this situation is the worst. 
Read this – Agriculture teachers in schools can boost the GDP
I could not find the Agriculture Department or officers in SBI and PNB Bank. However, I met a person in IOB bank who gave me loan-related information but again it was not practical. I asked him about the machinery loan and told him that I would install a geranium oil extraction machine. Please provide me with the required loan. He was not ready to give me a loan. 
This happens with farmers as well they do not get the agri loan regarding required machinery and other stuff. Then how they can produce a good quality crop in the required quantity?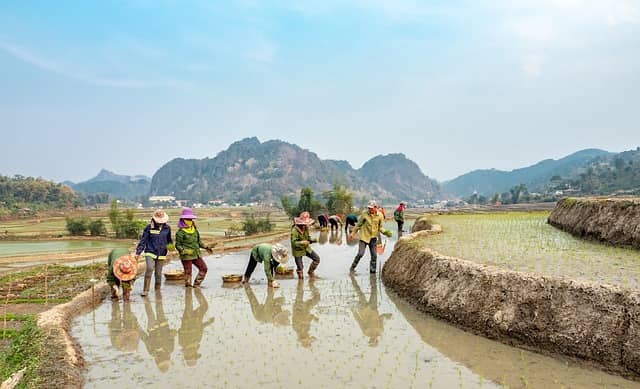 Vijay Mallya and Mehul Choksi ran out of India after getting a huge loan and banks approved their loan as per their company size. I am sure there might be some other people as well who are getting regular loans easily. This is the partiality between rich people and poor farmers.
Agriculture development ideas in India
To sort out the problem, instead of banks the government should create another channel to provide loans to farmers. The government needs to create specific loan departments which are not merged with banks or their employees should not sit in banks.    
In case you missed – Essay on agriculture in India 900 words
Special Agriculture offices like bus stations railway stations and airport
However, agriculture offices already exist in India but I am saying there should be a specific agriculture office in every city just like bus adda, railway station and airports. It should be a big office (in a specific mall) in which farmers can get easy information due to the presence of every agriculture department in the same place. The mall should contain a separate loan department. Government really wants to boost the agriculture sector so they must invest in this sector. 
Practical education and practical awareness are the main weapons for breaking the barriers and becoming a developed nation.
1 agri employee duty in 1 colony
Once installing big agriculture offices in every city now it's time to connect them with people. It's difficult to explain but if the government does this the nation will definitely grow. One person from the Agriculture Department should be placed in every colony of the city. Similar to police constables, they are doing duties on roads and taking rounds. However, one constable in one colony is required to maintain discipline correctly. 
Read this – How to start ethanol farming in India
Anyways, placing 1 agriculture employee in 1 colony can make farmers aware. Agriculture offices in each and every colony can be created in a small shop for awareness only and especially for loan awareness. 
This will make the loan process easy and popular among marginal farmers. The farming business will also become popular among youngsters. The government need to think and invest in this because 60% of people are involved in this sector. If they do not invest in their education and awareness then how they will grow? This is the on-ground practical solution.
Connect gurudwara masjid church temples and schools with agriculture 
If you are thinking that it's impossible to place 1 person in every colony then look at my answer. India is a temple country meaning in every state, city, block, village, colony, market and road there are already temples and other worship places available. Do we really need them in very large numbers? 
People cannot survive just visiting temples for survival work is needed and agriculture is giving them work which means agriculture should be treated as a temple in India. 
Don't miss this – Farmer canteen required in India
I want to say it is the right time to connect worship places with agriculture. If the govt cannot afford offices in every colony then they should pass a law where their employees will sit in temples, gurudwaras, masjids, churches or other worship places for agriculture awareness. This will cut off the shop and office cost more importantly people will easily find agriculture officers' or employee's address. Agriculture schools or ordinary schools can also be used for farmers' practical solutions and awareness purposes.
By doing this farmers will practically get connected with the main agriculture offices and departments, resulting in large query solutions easily in less time. This is called practical connectivity and practical solutions. This is an idea which can be upgraded, and modified as per the master plan and govt should think more about agriculture practically.
Everybody knows the loan process is very difficult, so why the government is not solving this, It's a matter of the whole country. If small offices were established in each and every colony or agri employees would sit in worship places to help farmers then only farmers would feel connected directly with the government. 
This is my personal opinion. You may differ from this if you have any ideas on the same matter you can share them in the below comment box.
Read more
How NASA growing plants in space names & reason
National tree of India banyan tree