Curry leaf plant growing in the ground gets sufficient mineral and nutrients from the soil therefore it does not need much fertilizer. But when the same plant is grown in a container or pot the regular water washes away minerals and nutrients from the pot. In this case, you need the best fertiliser for curry leaf plants. But how would it be if you could make fertilizer at home? I guess it will be helpful, cost-cutting and time-saving and this post will help you to prepare the best homemade fertilizer for curry leaves.
Today I am going to share some top secrets of making fertilizer for curry leaf plants which will make your plant healthy and bushier some of the techniques may help you to grow curry leaves faster. More importantly, all the techniques which I am sharing can be performed easily at home and you can prepare fertilizer sitting at your home by using some homemade materials. Let's begin and dive in deeper. 
Curry leaf plant
It is one of the most garden-growing plants which is used as a supporting ingredient, especially in Indian kitchens. It is famous as Kadi Patta in India and not only every Indian is growing this precious plant but other Asian and European countries are also growing this traditional plant in their gardens. 
Dont miss this – How to use coco peat for plants correctly
This easy-to-grow plant is grown for its Aroma and some health benefits, more importantly, the leaves of this plant can be used in most dishes like sambar vada, pickle, Idli, uttapam, daals, and vegetables and some people also use the leaves in tea. Due to its vital uses the demand for this medicinal leaf is very high and everybody wants to grow this precious leaf bushy and healthy in their own garden. 
Have a look – How to start organic farming at home beginners
Best natural fertilizers for curry leaf plant 
The necessary materials to make fertilizer for curly plants are given below:
Buttermilk, rice water, eggshell, asafoetida, seaweed, fish fertilizer and blood meal. 
Must know – Gond katira use in agriculture
1. Buttermilk 
Buttermilk can be a super easy homemade fertilizer for curly plants and some of the important reasons to use buttermilk as a fertiliser are given below.
High in nitrogen.
Makes the soil acidic.
Contains probiotic bacteria 
Probiotic bacteria increase microbe levels in the soil. 
Due to this, the plant can fight against black spots and powder mildew infections. 
Read this one – How to use perlite for plants indoor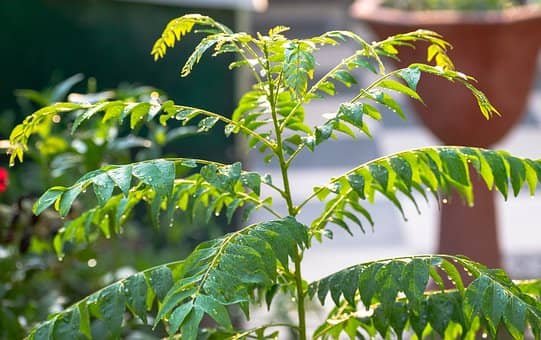 How to apply buttermilk 
Before using the buttermilk application put the soil outside of the container and dry it out. 
Curd or sour yogurt 2 tablespoons + 1-gallon water. 
Apply the mixture at the base of the plant. Perform this process on weekly basis.
Try this at home – How to grow coconut tree from coconut in pot
2. Rice Water 
Unpolished rice contains a sufficient amount of vitamin B which is helpful in new root growth. Hands one should use unpolished rice. 
How to apply
Purchase polished rice from the market.
Collect the rice water during washing the rice for cooking.
Give this water to the curry leaf plant.
Use this rice water instead of regular water. 
Best techniques – How to take care aloe vera plants at home garden
3. Asafoetida (AKA Hing)
Asafoetida helps curry plants to grow constantly and it is used by many farmers. Asafoetida is one of the best homemade fertilizers for curry leaf plants.
How to apply 
For better results apply Asafoetida with buttermilk.
Add ¼ teaspoon Asafoetida + buttermilk mixture.
Give it to the plant at the bottom of it. 
Do you know – How to care plants at home mud test and watering tips
4. Eggshells
The eggshell contains a good amount of calcium which is needed for fast plant growth.
How to apply
Arrange a zip lock bag and save a couple of eggshells into it. 
Crush the eggshells and apply them to the soil surface. 
Mix crushed eggshells into 1 to 2 inches deep in the soil without harming the plant roots.  
This can be applied in intervals of 2 to 3 weeks. 
Read this – How to make compost at home step by step
5. Fish fertilizer 
Fish emulsion is an organic liquid fertilizer containing a good amount of nitrogen and the curry leaf plant needs a good amount of nitrogen for lush green leaves. Fish emulsion becomes special because it not only contains nitrogen content but also has some amount of phosphorus and Potassium content.
FAQ
How do I grow curry leaves faster at my home?
Don't overwater your plant, especially in winter and keep updating the bigger size pots because plants need space to spread. Add some natural fertilizer like eggshell, fish emulsion, cow dung, buttermilk, rice water, seaweeds and asafoetida to boost the plant growth.
How do I fertilize a curry leaf plant?
Always fertilize the plant at the bottom at proper intervals. Fertilizers like seaweeds, buttermilk, asafoetida, eggshell, fish emulsion, cow dung and rice water can be applied.
Does the curry leaf plant need nitrogen?
Yes, the curry leaf plant needs a high nitrogen portion which it gets directly from the soil.
What is the best natural fertilizer for curry leaf plants?
Egg shells, fish emulsion, cow dung, rice water and asafoetida are good for growing curry leaf plants at home.
What is the best organic fertilizer for curry plants?
Rice water, eggshell, asafoetida, buttermilk, seaweed and fish fertilizer.
From which products can I make fertiliser for curry leaf plants at home?
Seaweed, fish fertilizer, rice water, eggshell, asafoetida, and buttermilk are some materials that can be used for making organic fertiliser at home.
Read More
How to grow basil at home with care
vermicompost benefits for plants 
How to grow succulent plants at home
Biofuel production and sources of biofuel
How to fertilize plants at home