Coconut trees grow naturally in the tropical climate and you can easily grow them in your home backyard. How to grow coconut trees from coconut in a pot seems difficult but believe me it's an easy process, given here step by step.
Growing coconut trees at home add a delightful look to the house due to the charm of the tree. This blog post will help you to grow coconut from seeds in your home backyard or outside your home. 
You just need to follow this content step by step and do let us know whether it was helpful information for you or not. Please feel free to ask any query regarding coconut in the below-given comment box.
How to grow coconut tree from coconut in pot
Germinating coconut from coconut is given below in very simple steps. You are requested to kindly follow the steps to grow coconut at home.
Select a perfect nut – Selection of a perfect nut is a basic and very important step. Your half-work is completed when you select a perfect nut to grow a coconut tree at home. First, pick a husked coconut and remember the ideal nut have lots of water inside, you can check it by shaking it. While shaking it the water will budge inside the nut and you can clearly hear the sound of it. You can use a coconut that has fallen on the ground from a coconut tree or you can pick a nut from the store.
Placement of coconut – After selecting a suitable nut now it's time to place the coconut in a bucket of lukewarm water. You can use a stone as a weight to keep the coconut submerged in the water for 3-4 days. This process is important to soften the coconut and it will also lend wings to the germination process. 
Zip lock plastic bag required – After softening the coconut for 3 to 4 days in a bucket of water pick up the nut and put it into the zip lock plastic bag. Then fill this bag with a cup of water and put this bag in a warm, dark place for 90 days. Make sure the bag is properly sealed. You can store this sealed coconut bag nearby a water heater. 
Do you want to explore – Coconut Tree Project Report
Keep checking germination – You should Keep checking the coconut germination process weekly. Once the nut starts growing roots wrap a dank towel paper around the roots and put the seed back into the bag. The seed will fully be developed when it will reach nearly 1 inch and the roots will reach 6 to 8 inches. 
Soil preparation – A mixture of half portion of sandy soil and half potty soil is used. Adding some vermiculite or fine gravel is helpful for soil aeration. However, planting the coconut tree outside the house does not require premix soil. Instead, you can plant trees outside in a loose and well-draining soil.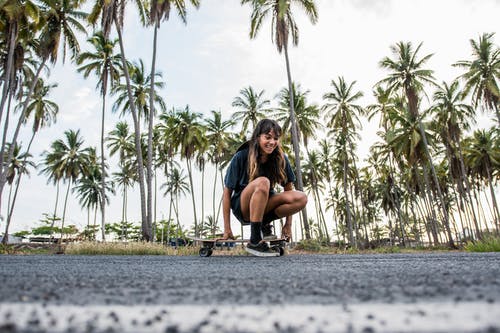 Germinated coconut into the soil – Now it's time to place the nut into the soil, keep the pointed end downside. One-third of coconut sticks should remain outside the soil. While planting the plant inside the house use a pot of a minimum of 10 inches deep with a large diameter. 
Water requirements – The said tree needs a good amount of water and sunlight. Two times watering in a week is required for coconut trees be careful of over-watering the plant. 
Sunlight need – The coconut tree needs a good amount of sunlight, but doesn't need direct sunlight in the initial days, instead the light should be partial or shady. You can create a mini greenhouse for your outdoor plants. Once the plant reaches 1 foot remove the bamboo greenhouse and let the plant grow. 
Tree maintenance is necessary – Keep the coconut tree warm and also provide a sufficient amount of water to the plant.
Temperature requirement – The temperature required for coconut trees is 25°C. The best temperature for coconut trees is above 27 degrees Celsius. 
Coconut tree fertilizer – Start fertilizing the tree after one year. Apply rotary spreader @ of 1 pound (0.45 kg) per 100 square feet. Use fertilizer containing boron, magnesium and manganese. The tree will absorb nutrients from inside the nut in the first year. 
Coconut tree harvesting – After 5 years you can get coconut fruit from the tree. After flowering, it will take 7 to 12 months to achieve the tree's full maturity.
FAQ
What is coconut?
Coconut trees produce healthy fruits called coconut. The fruits of this tree are harder from the outside and softer from the inside containing coconut water in the shell. 
What is kokohum?
Kokohum is a potting soil.
What is the weight of coconut fruit?
A fully mature husk coconut weighs 6 pounds or 2.7 kg.
Why my coconut tree leaves are not dark green?
Usually, it happens due to the lack of sunlight. You should provide proper sunlight to your plant. 
Can I grow small coconut tree Indoor?
Yes, you can but remember generally Indoor coconut trees are shorter in height and are able to produce very less or no fruits.
Can I grow coconut and lime tree's together?
Yes, you can but provide good spacing to both of the plants.
Why small coconut tree falls early from the tree?
Due to the lack of water this fruit-falling problem occurs in coconut trees.
Does coconut husk need to be brown or green while planting in the pot?
The coconut husk should be brown, not green while planted into the pot. Brown husk means the nut has been riped, green husk nuts are not riped and cannot produce a plant.
Why my coconut plant is turning yellow?
There might be a few possible reasons: Your coconut soil does not have a sufficient amount of nutrients. Pest or fungal disease could be the reason behind the coconut tree parts turning yellow.
Which kind of fertilizer should I use for the coconut plantation?
Use fertilizer rich in nutrients, boron, manganese, and magnesium.
Tell me why my coconut tree is not able to produce fruits for many years? 
If your coconut tree is planted indoors or in an area where they do not grow naturally is the most possible reason behind the non-productibility of your coconut trees.
Feel free to ask any query related to coconuts.
Read More
How to care plants at home important tips
How to fertilize plants at home 
How to fertilize plants at home