Red okra cultivation profit per acre is shared in this article along with best farm management practices. According to the expert Nisha kumari of Krishi Vigyan Kendra, Scientists have developed a new hybrid variety of Red okara after 23 years of consistent hard work. 
Kashi lalima is the name of hybrid red okra.
Red okra farming in India
Red okra is a hybrid variety of okra developed by (kvk) Krishi Vigyan Kendra. It looks like a torpedo containing 2 to 5 inches of height. The height of a red okra plant is 4 feet with torpedo-shaped fruit. Red okra contains a sufficient amount of nutrition and has a pleasant texture and also offers a unique flavour. However, raw red okra adds a touch of red colour but while cooking the pods turns into green and the red colour disappears. Moreover, red okra is less sticky in comparison to green okra. Sodium is not present in kashilalima okra.
Earlier red okra cultivation was only cultivated in European countries but now Indian farmers are also taking an interest to grow red okra hence Kashi lalima farming in India is gaining popularity. Especially Bihar farmers are ready to grow red okra in Bihar on a large scale due to more income returns than green okra.
Red okra variety
Types of red okra are given below
Red velvet,  Royal burgundy, Little lucy, Aunt hettie red, Hill country red and Kashi lalima bhindi.
Read this – Turnip yield per acre
Red okra cultivation profit per acre
Red Okra Cultivation Project Report is given below:
Okra cost per acre
Red okra cultivation average cost per acre = Rs 1,75,000

Red okra farming profit per acre
Red okra yield per acre = 40 to 50 quintal 
1 quintal = 100 kg
Therefore, 40 quintal = 4000 kg
Red okra price per kg = Rs 110 (average)
Red okra yield per acre = 4000 kg x Rs 110
Profit = Rs 440000 
Net profit = Okra yield per acre – okra cost per acre
Average cost = Rs 1,75,000
Net profit = Rs 4,40,000 – Rs 1,75,000
Net Profit = Rs 2,65,000

Note – This is the assumption of the Project Report. Okra cultivation profit margin figures may vary according to market, demand, availability, labour cost etc.
Red okra growing season
Okra grows well in warm humid climates and the summer season is best for growing red okra. According to the experts June is the best month for growing red okra however, it can also grown in the late spring season.
Okra farming in USA
Okra farming in USA is quite popular. Apart from growing okra on farms, USA people used to grow okra in their Garden backyard as well. Okra growing states in the United States are Texas, Georgia, Florida.
Red okra cultivation
Okra is a member of the mallow families such as cotton, hibiscus, and hollyhock. Okra is known for producing finger-shaped edible fruit. Generally, okra beans are green in colour and red okra were intentional raise by people and organisations. Credit for raising red burgundy okra goes to Leon Robbins at Clemson University in the year 1983. Krishi Vigyan Kendra Is responsible for raising Kashi lalima okra variety. Kashi lalima bhindi variety is a hybrid variety which is developed after 23 long years of practice by Krishi Vigyan Kendra.
Growing red okra plants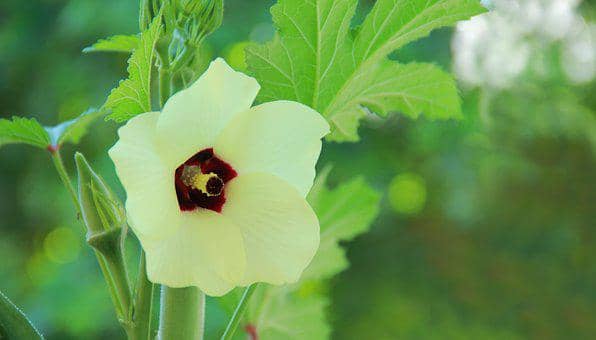 Generally, okra cultivation is done in the summers. You can start sowing seeds in the month of May and June and germination takes place in 7 to 12 days whereas within 45-60 days you can see thriving okra pods. Soak okra seeds overnight in the water or peel off the outer coating with nail clippers to make the germination process easier. Okra is a heavy feeder so it is required to feed them with enough compost. Okra seeds are transplanted after frost when the soil is warm with at least 20°C temperature. New okra plantation can be done with a distance of 7 to 8 inches.
Red okra edible
Red okara is not only edible but also more nutritious and healthy than green okras. Red okra such as kashi lalima is a hybrid variety of okra developed by KVK.
Health benefits Red Okra
Red okra contains more nutrition value therefore people are purchasing more red okra nowadays. 
Good for heart health. 
Sufficient amount of Iron.
A good amount of calcium & antioxidants.
Sufficient vitamin A is present in kashilalima bhindi.
Sufficient potassium is present in kashilalima variety.
Red okra is good for the nervous system. 
It reduces bad cholesterol.
Red okra is good for motiabind patients. 
FAQ
Okra farming best practices are given below to help you.
Can we eat red okra?
Yes, red okra are also edible like green okra's.
What is the climate required for lady's finger?
Warm humid conditions are good for ladyfinger cultivation. Premonsoon months such as June are recommended for planting ladyfinger.
What is the temperature required for activation?
21°C to 35°C is best temperature for okra cultivation.
What is the minimum temperature for growing okra?
A minimum of 20°C is required for growing bhindi. Temperature below 20°C may cause frost injury.
From where I can purchase red okra Kashi lalima seeds?
You can contact (KVK) krishi vigyan kendra to purchase kashi lalima seeds.
What is the growing season for kashilalima VROR 157?
What are the ideal sowing months for Kashi lalima?
February for the spring-summer crop and June month for rainy season crop is the best season for kashi lalima crop.
What is the kashi lalima okra seed rate per hectare?
12 to 14 kg per hectare is required for spring-summer crops whereas 8 to 10 kg per hectare for rainy season crops.
What is the red okra seed rate per acre?
4 to 5 kg per acre for spring-summer crop and 2 to 3 kg per acre for rainy season crop.
What is okra plant spacing in cm?
Okra spacing in cm is 45 cm x 20 cm for spring crops and 60 cm x 30 cm for rainy season crop.
What is the best fertilizer for growing okra plants?
Fertilizer dose of okra – Best fertilizer for okra plant is 100 kg nitrogen, 50 kg phosphorous and 50 kg potassium per hectare.
Read More