Mud crab farming profit in India is touching sky-high. The Philippines is the country doing this cultivation on a large scale.
Information
As the name suggests the creature used to live in mud and is popularly known as kekda in India. This livestock is well-known as green crabs and mangrove crabs belonging to the Scylla genus. The crab industry plays an important role as a secondary crop in fish culture, especially in Asian countries.
The turning point came in this farming in the early 80s due to the inception of live crab export. Live crab export has boosted farming in India and people have taken this opportunity with both hands and lots of ordinary farmers adopted commercial mud crab farming. They have high demand in local as well as international markets due to their flesh, health benefits and high rapid growth rate. 
Read it – Pearl Farming Project Report Given
These creatures are also preferred as a breakfast by lots of International sports players, especially cricketers. Former Indian cricket players Sachin Tendulkar and Rahul Dravid also declared several times in TV interviews that they prefer to eat mud crabs whenever they used to go on an Australia tour, South Africa tour or any overseas country. Soon crab commercial cultivation in India became a fruitful business and made a place on the list of profitable agriculture businesses. To reduce the cost farmers are doing vertical crab farming in India.
Where is mud crab found?
Mud crabs are found around the coast of the Indian Ocean to the Malay Archipelago. They are found from Southern Japan to southeastern Australia, South Africa, Srilanka, North New Zealand, Hawaii and Florida. Commercial crab farming is done worldwide including in Asia, Europe, Africa, the USA, Brazil etc. Moreover, the crab culture system and practice in Malaysia are worth it. 
Export forms – Mud crabs are exported in three forms live, frozen and stuffed crab.
Water quality – They can easily survive in marine water as well as in brackish water environments. Mud crab species such as Scylla tanquebarica and Scylla Serrate exist in brackish waters as well as in the inshore sea. Both these species prefer muddy or sandy bottoms.
You must know – How to start Quail farming for profit
Facts
Pond size 0.1 hectare. 
Crab culture period 20 – 25 days.
Survival percentage 80 – 85%.
Density stock – 1000 crabs of 350 gram each. 
Weight at harvesting time – 400 to 500 grams.
Meat yield – 320 kg per 0.1 hectares.
Harvest cycle 1 year – 4 cycles. 
Harvest cycle 2nd year – 8 cycles.
Price per kg – Rs 200 to Rs 400 (average price).
Mud Crab Farming Project Report Analysis
Crab cost per 0.1 hectare
Cost of crabs (soft) = Rs 28,000.
Feed cost = Rs 8,000.
Pond construction cost = Rs 25,000.
Sluice gate for water exchange = Rs 10,000.
Diesel pump set 5 hp = Rs 20,000.
Diesel for pumping = Rs 1000.
Bamboo fencing = Rs 3500.
Nylong net fencing = Rs 2000.
Casuarina poles = Rs 4000.
Labour cost = Rs 7500.
Harvesting expenses = Rs 1500.
Miscellaneous cost = Rs 2500.
Total cost = Rs 1,22,000.

Mud crab profit
Crab price per kg = Rs 200.
Crab production per 0.1 hectare = 320 kg.
1st year = 4-time harvesting.
1st year profit = 320 kg crab x 4 = 1280 kg crab.
1st year Profit = 1280 kg crab x Rs 200.
1st year profit = Rs 2,56,000.
Net Profit = Crab yield – Crab cost.
Net Profit = Rs 2,56,000 – Rs 1,22,000. 
Net Profit = Rs 134000.

Note – This is the assumption of the project report. Prices may vary according to the mud crab price, market, demand and locality. This is the profit of the first year only in the 2nd year you may get much more benefits. 
How to start mud crab farming in India
In the Philippines, people are using some vertical farming tricks because vertical crab farming cost seems lesser while using the home location and equipment. Vertical crab farming costs in India are lesser in comparison to ordinary farming therefore Indian farmers are also trying the same to reduce the cost. People who want to start mud crab farming at home should gain some knowledge about the fattening process or they can simply follow the below-given steps to enhance their knowledge.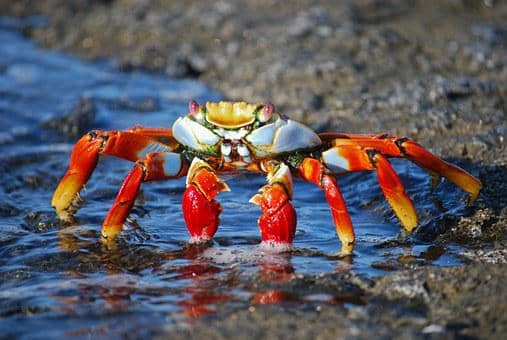 Fattening process 
Mud crab fattening technology has gained popularity in very less time. It is a holding procedure in which water fishes are retained for a shorter time of 20 to 22 days till they flesh out. It is a process in which young immature female crabs are held till the development of their gonads and mantle cavity.
Read this – Snail farming profit per acre
Sand crab fattening process is performed popular in the states including coastal areas of India, Andhra Pradesh, Tamilnadu, Kerala, Odisha, West Bengal, Karnataka etc. Crafting Technology became more popular because of the huge demand for gravid females along with large size hard-shelled crab restaurants. The crab fattening boxes are available to make the fattening process easier.
Growing rate
Mud crabs are considered very large in size and usually, they grow from 21 to 25 cm from the corset and gain 2 to 2.5 kg weight. Fish, prawns, bivalve molluscs and shrimps are the feed of crabs. Their maturity level varies according to the species, female species S. tranquebarica reaches maturity at the size of 12 to 14 cm whereas the S.serrate species reaches maturity at the size of 8.5 cm only. 
Breeding crabs
Both species including S.serrate and S. tranquebarica are continuous breeders hence a whole year is mud crab breeding season. However, breeding peak season varies from place to place and each crab is used spawned once in 60 days. Both species have a good egg-carrying capacity. Averagely, S.serrate carries around 0.5 to 0.8 million eggs whereas the other species S. tranquebarica used to carry 1 million to 7 million eggs. 
Where to buy crab seeds 
You will need lots of seeds for commercial crab farming in USA, India or where ever you live. You can buy seeds from crab hatcheries and central marine fisheries. However, seeds are available naturally in lakes, creeks, saltwater lagoons, mangroves, backwaters and estuaries. 
Soil quality fattening process
Soil plays a crucial role during mud crab fattening practices. Sandy soil and sandy clay soil are best for the fattening process.
Water quality 
Good quality bountiful water is needed for the fattening business. Due to high tolerance to varying salinity conditions brackish water is preferred. Not only temperature is important but water temperature also plays an important role in this farming modal. 
Water temperature – 22°C to 30°C.
Water pH – 8.0 to 8.5 pH.
Water salinity – 10 ppt to 34 ppt. 
The dissolved oxygen content of water – should be more than 3 ppm.
Pond designs
Pond preparation should be preferred before starting the business. 
You can select 0.1 to 0.6 hectares to start mud crab farming. 
Water depth of pond – 5 feet (1.5 meters).
Soil in pond – Build the pond with a sandy bottom. 
Bunds width – To prevent crabs from escaping through the bunds make sure bunds should be 3 feet wide at the top. 
Fencing height – 0.5 meters to 1 meter over the dyke.
Fencing materials – Bamboo poles, sticks, knotless nets, fibreglass panels, asbestos sheets.
Refugee cages – Stones, hollow bamboo pieces. Place these cages in the prepared pond for moulted animals remember they have cannibalistic nature. 
Read this one – 12 Pig Farming Project Report
Mud crab pond water supply
Water supply or water exchange in the ponds is carried through tidal water. Water exchange is done through sluice gates, these gates have the capability of regulating the inflow and outflow of tidal water. To prevent the escape of crabs sluice gates are generally fitted with bamboo screens. Seawater is another option for tidle water in places lacking tidal water.
In order to prepare the pond drain out the whole water of the pond and allow it to dry out in sunlight before liming. Allow water during the high tide, in case of no or less tidal water pump seawater to a height of 5 feet(1.5m).
Stocking density
The stocking density is 1 crab/1 square meter area. However, you can also choose 1 crab/ 2 to 3 square meter area. Mud crabs with an 8 cm carapace width or above 8 cm and weighing more than 500 grams are considered for stocking. These are immature soft-shelled mud crabs.  
This bird can change the game – Kadaknath farming profit cost
Mud crab feed formulation 
Bivalve meat and small fishes are preferred as their feed in the ponds. The feeding is based on their body weight and the feeding process is practised daily. It is considered to feed them at the rate of 5 to 10 per cent of their body weight. Moreover,  the fattening duration is 20 to 25 days.
Mud crab harvest time
Harvesting should be done before the next moulting and after the shell become hard enough. Crab collection is done after draining out the pond water. Scoop nets, ring nets and baits are used to pick them. Harvesting should be done in the early morning or late evening to reduce the mortality rate due to water overheating temperature in the afternoon.
On average from a medium-sized pond, 9 to 10 cycles of crab fattening operations can be taken in a year. Today vertical farming is considered money-saving farming and one can start vertical crab farming as well to use less space for more profits.
Mud crab fattening business marketing
There are immense opportunities in this business due to the huge local and international demand for live crabs. You should contact central marine fisheries for a professional marketing procedure.
Health benefits
Mud crab contains a huge amount of proteins which are necessary for building muscle. 
High level of omega 3 fatty acids.
They contain vitamin B12 and selenium.
FAQ
What is the feed of mud crabs?
The feed includes bivalve mollusks, fish, prawns and shrimps.
What is the average weight of mud crab?
With a 17 cm carapace, they are 500 grams to 1 kg in weight. Whereas crabs having 21 to 25 cm carapace weighs 2 to 2.5 kg.
Where can I buy crab seeds?
You can buy seeds from crab hatcheries and any central marine fisheries nearby your location.
Are mud crabs healthy to eat?
They are one of the healthiest non-veg items that contain sufficient proteins, omega-3 fatty acids, vitamin b12 and selenium.
How is mud crab fattening done?
The fattening process is performed by stocking the immature and soft-shelled crabs for 25 to 30 days until the crab shells are hardened.
What are the common names of mud crab? 
Mud crab, Mangrove, Green crab and Kekda in Hindi language.
What is the scientific name of mud crab?
Is crab farming profitable?
Yes, it is profitable farming and one can generate a net profit of Rs 134000.
Can I start vertical crab farming in USA at my home?
Yes, it occupies less space and one can easily start it in their house after arranging the needed requirements.
Reed More
How to start sheep farming in United Arab Emirates UAE
Domestic animals farming profit per acre