By planting 8000 plants in 1 acre around 15 to 20 kg lavender oil is obtained. Lavender oil price per kg in India is Rs 10 k to 15 k and by selling the yield @ Rs 10,000 farmers can achieve Rs 10,000 x 15 kg = Rs 1,50,000. Lavender per acre profit and farm cost are given here with a detailed project report.
Quick Overview – Profit Rs 1,50,000, yield/acre – 15 to 20 kg, plants – 8000 plants/acre.
Plant profile
Plant type – Perennial flowering shrub. 
Scientific name – Lavandula spica, lavandula Angustifolia.
Height – 40 cm to 80 cm. 
Leaf shape – Diverse across the genus.
Leaves – Covered by thin hairs.
Flower colour – Blue, violet, blackish, purple, yellowish and lilac.
Calyx & corolla – Tubular lavender plants with 5 lobes.
Lifespan – 15 years.
Lavender farming in India
Growing lavender for profit becomes easy when you follow the correct exercises which are given below.
Varieties – True lavender, Lavandin, Sher E Kashmir, Spike
Climate conditions – Cool winters and cool summers are the best conditions for lavender cultivation in Florida. This perennial can tolerate drought and frost conditions, good sunlight is required. It produces the best yield when grown in higher altitudes such as Alaska, Washington, California, Oregon, Utah etc. They are mostly grown in the Kashmir, Maharashtra and Karnataka regions of India and are famous for their violet revolution.
In case you missed it – Lavender farming profit per acre in India in detail
Soil need – Calcareous soil with slopes, and rich organic matter is the idle soil. Soil pH should be 7.3 to 8.3 for better growth. It is a soil-friendly plant and can be grown in most types of soil. However, before starting the cultivation on a commercial level one must go for the soil test. 
Land preparation – In 1 acre farm ploughing is done 2 to 3 times until the soil comes to the fine tilth stage. Farmyard manure is added to the land and uses 2-year-old cow dung. A weed removal process is required before any plantation and during the growing stage of the plants.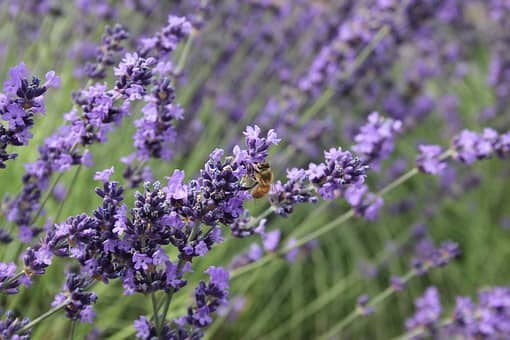 Propagation methods – Seed, tissue culture propagation, layering and stem cuttings. 
Lavender plants per acre & hectare– 8000 plants/acre and 21000 plants/hectare.
Irrigation – Drip irrigation is best to provide equal and sufficient water to each and every plant it also saves plenty of water. Choose the drip system ahead of the sprinkler system due to disease problem expectations in the lavender plants.
Fertilizer – NPK 100 kg, 40 kg per/ hectare and 40 kg, 14 kg per/acre. 20 kg nitrogen full dose P205 and K20 required. The remaining 80 kg nitrogen is divided into 4 splits of 2 doses during each year.
Flowering – Early flowering is expected in low regions and late flowering in high slopes.
Yield per acre – 15 to 20 kg lavender oil per acre. 
Yield per hectare – 38 to 50 kg lavender oil per acre. 
Harvesting – Pay attention and cut the flower from the stem with a 10 cm length. Harvesting mostly takes place from August to September in Kashmir. 
Get free plants and training in India
Get free plants – If you live in India then you can easily get free plants from the government. In order to get free lavender plans you should approach the fantastic govt organisation called CSIR-CIMAP. This organisation is responsible for the Purple Revolution. It is all about lavender farming in the Kashmir region, in which CSIR helped and prepared farmers to grow lavender on a very large scale by providing tools, free plants and free training to farmers.
Aroma mission – Lavender in India is easily found due to suitable climate conditions and the government is also helping farmers. You can get free lavender in India under the Aroma mission. It is a mission run by the Indian government to promote aromatic plants and lavender falls under the category of aromatic plants. The CSIR-CIMAP government body is working under the Aroma mission and you can approach them.
KVK – Kisan Vikas Kendra is established throughout India by the government to help farmers. KVK provides the cheapest training in the entire India. You can also get free plants in India after successful training in KVK. Apply for lavender farming training and get some free plants from govt.
Read this – Sunflower farming profit per acre Rs 40k
Project report 
Lavender farming profit per acre in India and in other countries like the US and Australia may differ according to the market expense, availability, variety and use. Lavender profit per acre and farm cost are given in below project report which is based on the Indian market price.
Cost per acre
Planting material cost – Rs 15000 (You can get free plants under aroma mission). 
Land preparation cost – Rs 7000.
Weed removal cost – Rs 6000.
Labour cost – Rs 12,000.
Fertilizer cost – Rs 2500 (mostly organic, farm made & compost).
Transportation cost – Rs 3000. 
Pesticide cost – Rs 1000.
Irrigation cost – Rs 6000.
Miscellaneous cost – Rs 3000.
Total cost = Rs 55,500.
Lavender profit per acre 
Lavender price per kg (oil) – Rs 10,000 to Rs 15,000.
Lavender yield per acre – 15 to 20 kg/acre.
If a farmer is able to produce a 15 kg yield in 1 acre.
Then, Profit = Rs 10,000 x 15 kg = Rs 150000.
Net profit = (profit) Rs 150000 – Rs 55,500 (cost).
Net Profit = Rs 94500.
So the estimated lavender farm profit per acre is Rs 94500.
Note – It is an estimated calculation and the actual figure may vary accordingly.
Read this – Kafal fruit in English is called bayberry
FAQ
How many acres are needed for a successful lavender farm?
You can start with 1 acre and by following good practices you can achieve success.
How many lavender plants per acre should I plant?
8000 plants can be planted in 1 acre and around 21000 plants in 1 hectare.
How much profit per acre of lavender?
How much lavender oil per acre can be achieved?
Does lavender grow in India?
Yes, lavender cultivation in Karnataka, Maharashtra and Kashmir is done on a wider scale.
Is lavender farming profitable?
Absolutely, you can earn a net profit of Rs 94500 after deducting the cost of Rs 55,500.
How to sell lavender in India?
They can be sold fresh, dried or you can sell the lavender oil. You can directly connect with online selling companies like Amazon and IndiaMART etc. Or create your own website to sell on your own.
Where are lavender farms in India?
Kashmir, Maharashtra, Karnataka.
Can lavender grow in Maharashtra?
Yes, farmers are already growing lavender in Maharashtra. You can approach CIMAP or KVK centres for cheap practical training and free plant help.
Read more