Hello everyone, today this Sunflower farming guide will give you an idea about sunflower farming profit per acre including a detailed sunflower growing project report. Sunflower farming production per acre is huge even one can not imagine how profitable is sunflower farming! Don't worry, today we know the class of our viewers and they are really serious about new farming ideas which we present here. To give good value to our viewers we have collected Sunflower farming yield per plant as well as the sunflower benefits are shared along with good farm management practices including sunflower farming business plan, sunflower farming time and process.
Information about Sunflower
Sunflower flower Scientific name and family is Helianthus annuus and Asteraceae family. Sunflower stem can reach up to 3 metres in height and the flowerhead can be 30 cm wide. Sunflower crop is such a crop that demands less irrigation and Singapore farmers are using less water for Sunflowers growing in Singapore. Less irrigation means less cost during sunflower cultivation. 
Major sunflower growing states in India
Growing sunflower is a profitable crop and major sunflower producing states in India are given below: 
Sunflower farming in Gujarat, sunflower farming in Rajasthan, Bihar, Uttar Pradesh, Orissa, Maharashtra, Haryana, Punjab, Tamil Nadu, Andhra Pradesh
Sunflower hybrid varieties
The sunflower hybrid varieties are given below and if you are thinking how to grow sunflowers commercially then you should pick these hybrid varieties for commercial sunflower farming. 
KBSH – 44, NDSH – 1, DRSH – 1
Sunflower yield per acre in India
However, the sunflower yield per acre in Missouri, Kenya, Uganda or India may differ but an average sunflower yield per acre is 8 to 9 quintals i.e 800 kg to 900 kg. The average market price of sunflower is Rs 3000 to 4000 per quintal. You can read the full sunflower project report in this article, given above. Sunflowers need 3 to 4 months to mature according to the varieties.
Sunflower farming project report
Sunflower farming cost per acre
Land preparation cost = Rs 1000 
Sunflower seed cost per acre = Rs 750
Sunflower seed treatment cost = Rs 180
Sunflower crop sowing cost = Rs 300
Sunflower thinning cost = Rs 150
Sunflower fertilizer and manure cost = Rs 2000
Weed management cost = Rs 1500
Plant protection cost = Rs 1500
Harvesting cost = Rs 500
Threshing cost = Rs 800
Cleaning and packaging cost = Rs 350
Transportation cost = Rs 500
Total cost = Rs 9530
Sunflower farming profit per acre
To that the sunflower farming production per acre, we need to subtract the cost from the sunflower profit
Sunflower production per acre is 8 to 9 quintal 
1 quintal = 100 kg therefore 
9 quintal = 900 kg
The average market price of sunflower seeds per kg varies from Rs 45, Rs 50 to Rs 500 according to variety and region.
Let's take Rs 50 per kg 
900 kg x Rs 50 = Rs 45,000
Sunflower farming profit per acre = sunflower cost per acre – sunflower yield per acre
Sunflower cultivation profit = Rs 9530 – Rs 45,000
Sunflower seed profit per acre = Rs 35,470
Note – This is the assumption of sunflower profit per acre however the actual profit may differ according to the practices of sunflower cultivation performed by the farmer. The price majorly depends on the variety and the market of the crop.
Sunflower cost of cultivation in 1 acre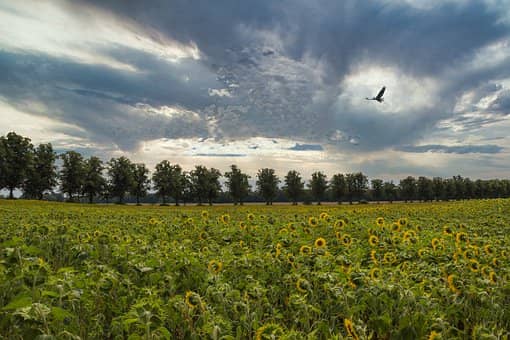 Before starting sunflower cultivation you might be thinking are sunflowers profitable? How much flowers per acre! And what is the average sunflower crop yield per acre? To find all these answers first you should be aware of sunflower cultivation cost and if preferring seeds then the cost of cultivation of sunflower seeds. Don't worry we have shared sunflower production cost per acre in this article. You just need to follow the steps given below to understand the cost of cultivation of sunflower in 1-acre land. 
Land preparation cost for farming
Rupees 900 to Rs 1000 is required for creating irrigation channels and cultivating the land with a tractor during the ploughing process. One labour is required for this process and the cost of labour is Rs 300, 320, 350 per day as per the locality.
How to get land ready for farming
A couple of ploughing is necessary before planting the plants or sowing the seeds. Dig the pits around  5 cm to 8 cm deeper and add some topsoil mix along with a sufficient quantity of FYM.   remain open these tips for at least 24 to 45 hours to the direct sunlight so that tiny insects collapse. Farmers are increasing Sunflower farming yield per hectare by adopting the best farm management practices on a regular basis and the first step that falls under best farm management practice is to develop the land with sufficient nutrients, phosphorus, and weed removal process. 
Sunflower seed cost per acre
Sunflower seed planting rate – 2.5 kg to 3kg sunflower seed rate per acre is required. Sunflower seed price per kg varies between Rs 245, 250, 280, 300 to 500 and more according to the varieties. For 3 kg sunflower, a farmer needs 3 kg x Rs 250 = Rs 750. Remember, the sunflower prices in India may vary according to the company and sunflower varieties.
Sunflower seed treatment cost
Argentina sunflower production is high because Argentina farmers are habitual of practising good farm management practices and seed treatment is the most important aspect in any farming and falls under good farm management practices. Seed treatment costs may vary between Rs 160 to 180.
Sunflower seed treatment chemical name
To avoid various virus infections sunflower seed treatment is advised and for sunflower seed treatment you can use chemicals like thiamethoxam, imidacloprid, Deltamethrin.
Sunflower crop sowing cost
Rs 300 can be divided among two labourers meaning150 per labour. This much amount is enough for just sowing the sunflower seeds in 1 acre however the amount may vary according to the availability of labourers and locality.
Cost of thinning sunflower seeds
Sunflower thinning operation takes place after 10 to 15 days of germination and Rs 150 is required for this process.
Sunflower Fertilizer and manure cost
Approximately Rs 2000 is required for fertilizer which is divided in two parts. Rs 1000 for FYM and Rs 1000 for purchasing sprays and chemicals. 
What are the sunflower fertilizer recommendations?
Sunflower fertilizer NPK – The sunflower fertilizer dose Is classified as  60-80-40 and 30-40-30 kg of N-P205-K20/ha along with FYM @ 5 t per hectare. Apply a full dose of P, K with 50% N as a basal in seed rows at the depth of 7.5 cm to 10 cm and cover with FYM before sowing. Rest 25 % N at button stage 25 % N at flowering stage.
Weed management cost
Weed should be controlled in all growing stages of sunflower. Weed can be controlled by practising intercultural operations and by spraying herbicides. Weed costs can go up to Rs 1500 for intercultural practices and herbicide spraying.
Plant protection cost 
Sunflower pest and disease management costs may reach up to Rupees 1200 to Rs 1500. Tobacco caterpillar, Bihar hairy caterpillar, Jassids, Rust, Charcoal Rot, Stem Rot, Head Rot.
Sunflower harvesting cost
Sunflower harvesting requires 2 to 3 labours in 1 acre of land, costing Rs 500 is needed to pay the labours. Sunflower harvesting delay may result in termite attack which will definitely reduce the sunflower yield per acre hence it is advised to harvest the crop at the right time.
Sunflower threshing cost
Approximately Rs 800 is required for the sunflower threshing process. Threshing can be done manually or with the help of a power-operated thresher system. Threshing is performed after the separation of heads and after drying flowers.
Sunflower cleaning and packaging cost
Rs 350 is required for Cleaning and packaging the produce of a one-acre farm.  After threshing sunflower cleaning is done before packaging, two labours are required for this process.
Sunflower transportation cost
Sunflower produce needs to be transported from the place of harvesting and Rs 500 is required for this process.
Sunflower farming yield per acre
Under good farm management practices, farmers can easily produce 8 to 9 quintals of sunflower yield per acre.
Is growing sunflowers profitable?
Yes, sunflower farming is a profitable business and due to good profit in sunflower farming, people are not only growing sunflowers in pots but also want to do commercial sunflower farming and finding the ways. Farmers in Hungary are making a good profit in Sunflower cultivation by providing proper fertilizer, pest and disease management, irrigation and good farm management practices.
Name top 10 sunflower producing companies
Top 10 sunflower seed producing companies are given below:
Ukraine
Russia 
Argentina 
Bulgaria
United Republic of Tanzania
Turkey
Hungary 
France 
United States of America 
Spain
Apart from these countries, sunflower is majorly cultivated in the following countries such as South Africa, the Republic of Moldova, Kazakhstan, Serbia, Myanmar, India, Italy, Uganda, Greece etc. 
FAQ
How much money can you make growing sunflowers?
Farmers are making nearly Rs 35,470 (463.06 USD) per acre.
How much does sunflower seed cost per acre?
While sowing 3 kg seeds per acre Rs 750 is the cost when the price of sunflower is Rs 250 per kg.
What is the average sunflower production per acre?
With good farming practices, farmers can produce 7 to 8 quintals of sunflowers from 1 acre.
How many sunflower seeds per acre?
European farmers are doing commercial sunflower farming in Europe on a large scale. Therefore sunflower seed production in Europe is good enough, while starting sunflower cultivation you need 2.5 to 3 kg sunflower seed per acre. 
How long does sunflower take to grow?
The sunflower crop needs 70 to 100 days to grow full maturity.
Read More
TubeRose farming profit per acre (rajnigandha)