Grape farming in Maharashtra is very popular and farmers are making a good income. Grapes farming profit and estimated cost for 1 acre are given here.
Grapes profit per acre in India 
Cultivation of grapes is one of the ancient cultivation which started way back 1000 years ago in the East. Very few varieties of grapes are native to America and Asia, most varieties of grapes are native to the Mediterranean region and Central Asia. Grapes are considered berries of the flowering plant genus called Vitis.
A grape is a climbing plant that contains tiny fruits in clusters. The grape plant contains deciduous woody vines that grow vertically from bottom to top with the help of bamboo sticks or other supporting materials. Grapes are small, size roundish type fruits 6 mm in diameter, and 3cm in length and occur in many colors including green, dark blue, crimson, black, yellow, pink, orange, etc.
Grape leaves are 5 to 20 cm long. Grapefruit skin contains naturally occurring microorganisms, this is one of the reasons this fruit is used in making alcohol. Grape cultivation is one of the most profit-making cultivation because grapes are consumed worldwide in the forms of fruits, juices, jam, raisins, grape seed oil, seed extract, jelly, and grape wines. 
Grape cultivation in India
Grape farming's annual production in India is estimated at 12 lakh tonnes per year. Farming of this tiny fruit is considered one of the most money-making farming. The total grape cultivation area has not increased yet due to the high initial cost of the investment.
Due to the unpredictable weather in India, most farmers are conscious to start the cultivation of the same. Maharashtra is one of the major grape-producing states in India it is also responsible for grape export in large quantities. There is always a need to expand the grape cultivation area and its uses.
Major grape-producing states in India
Maharashtra, Tamilnadu, Andhra Pradesh and Karnataka are the highest grape-producing states in India. 90% of the total production of grapes is contributed by these states.
Grape cultivation 
There are two main categories of grape called Euvitis and Muscadinia. More than 60 species of grapes fall under the above-given categories. Among 60 species only three species belong to Muscadinia and the rest 57 belong to Euvitis. 1000 grape varieties in India are grown according to various regions but two major varieties that are grown for commercial grape farming are seeded and seedless grape varieties. 
Don't miss this – Fruits farming profit cost per acre India
Seeded grape varieties
Aneb e shahi, Bangalore blue, Cheema sahibi, Black champa, Gulabi, Bhokri, Beauty seedless, Delight, Kishmish beli, Perlette, Thompson seedless, 
Grape climate requirements
Constant weather conditions are required for fruit growing. 
For healthy grape vines and sweet grapefruits, good amount of carbohydrates is required and proper sunlight is capable of providing enough carbohydrates to grape plants. 
A warm day, cool night, and low humidity is ideal climate condition for grapes.
Winter is good for grape vines but you should be more careful during frost.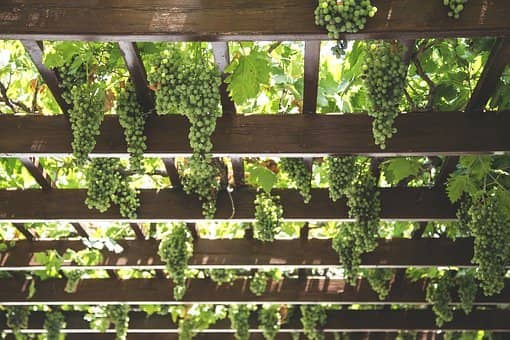 The free image credit goes to pixabay.
Temperature for grapes farming
 The optimum temperature for grapes to grow is 15°C to 40°C
Grapevine water requirements
Young vines – 20-liter water is required per vine each week, 2 or 3 irrigation cycles.
Mature grape vines – 100 to 300 liters of water each week. The drip irrigation method is preferred for irrigating grape vines.
Irrigation cycles – Grape farm needs 10 to 15 irrigation cycles in a season. 
Rainfall required for grapes
The average rainfall required for grapes farming is around 50 to 60 cm. During the grape ripening season, less rainfall is required so that the plant can avoid diseases. 
Grapes soil requirements 
75 cm to 1 m should be the minimum depth of the soil. Sandy loam soil with good drainage is preferred in grape cultivation.  
Soil pH level grapes
Grape soil pH level should be 5.5 to 7.5 
Grape propagation methods 
Diseases-resistant hardwood cuttings were obtained from a vineyard and raised in a nursery. Before planting the rootstocks are treated with IBA. At first, rootstocks are dipped in the water for 24 hours. Some other methods of grapefruit propagation are T budding, seeds, layering, bench grafting, rooted cuttings, and tissue culture. 
Land preparation for grape cultivation
Land for grape farming is plowed a couple of times and after that, it is leveled. Raised beds for grape plants are created with proper drainage and irrigation channel. Pits are dugged in a rectangular planting system with dimensions of 90 x cm 90 cm x 90 cm. These pits are left open for at least 2-3 weeks.
Soil mix for pits – Topsoil, soil with organic manure, 300-gram muriate of potash, FYM, 3 kg bone meal, 5kg neem cake 3kg super sulphate are mixed and filled in the pits.
Grape planting season 
A 4-month-old plant is planted during 
Central India – november to January
South India –  December to January
North India –  February to March 
Grape plant spacing
Grapevine spacing should be 4.5 x 4.5 m, 7.2 m x 3.6 m (anab e shahi), 3 x 3 m for perlette, 3 x 3 for beauty seedless. 
Grape plant fertilizer 
30 days before growth begins in grape vines 
75 tonnes of organic manure, 5-tonne castor cake, and 3 tonnes of superphosphate per hectare. 
Fertilizer dose – 3 to 4 weeks later 100-gram urea + 200-gram superphosphate + 250 gram castor cake applied to each plant. 
Fertilizer interval – The above formula should be applied in intervals of 1 month and for 6 months. 
Ring method – A ring of a 60 – 75 meter radius with 75 m depth is created around each vine and fertilizer is applied to this ring. 
Pest and disease in grape farming
Pests – flea beetles, thrips, mealybugs, leafhoppers.
Disease – powdery mildew, down mildew, anthracnose.
Solution – To control these pests and diseases use dasparni arka, cow dung, cow urine, and decoction of the acacia leaves. 
Grape harvesting 
Grapes are often tasted to check maturity level, if found ripen then a cluster of grapes is cut with the help of a sharp knife. The grapefruit which don't drop from the vine should remain left ripe a bit more. The fruits that are picked from the vines should be placed in a cool store or place. 
Harvesting time – the best harvesting time for grapes is from March to April. 
Grape yield per hectare
In South India, 60 tonnes per hectare of anab-e-shahi grape variety is produced. In the 2-3 years of planting the average grape vineyard yield per hectare is 20-33 tonnes. 
Grapes farming Project Report
Grapes farming profit per acre cost of 1 acr is explained below:
Grape Farming Cost Per Acre
Grape plant cost = Rs 25, Rs 35, R 50 to Rs 80 or more as per the variety.
Plants per acre = 800 grape plantations per acre in India.
Plant cost per acre = 800 plants x Rs 25 = Rs 20,000
Labor cost per acre = Rs 15,000.
Land preparation cost per acre = Rs 10,000.
Fertilizer cost per acre = Rs 5,000
Manure spreading cost per acre = Rs 3500
Fencing cost per acre = Rs 50,000
Drip irrigation cost = Rs 46,000
Miscellaneous cost = Rs 10,000
Toat Cost = Rs 159500
Grape Farming Profit Per Acre
Average grape yield per acre = 2 tonnes per acre 2.5 tonnes = 2500 kg
The average price of grapes in India = price of grapes per kg is Rs 50 to Rs 120 or more (as per variety, location)
Let's take the price per kg as Rs 65.
Grapes profit per acre = Rs 70 x 2500 kg grapes. 
Grapes production per acre = Rs 175000.
Profit per acre in India = Yield per acre – Cost per acre
Profit per acre = Rs 175000 – Rs 159500
Grapes farming profit per acre = Rs 15500
Net Profit = Rs 15,500
This is the total income generated in the second year. The grape yield increases every subsequent year; 5 to 6 tonnes in the 3rd year. 
Note – This is the assumption of the grape farming project report in order to give you some idea about the profit of grape cultivation. 
FAQ
What is the lifespan of a grape plant?
An average of 15 years is the lifespan of the grape plant and it can produce fruits throughout the years. 
How long does it take to grow grapevines mature?
Generally, a good variety of grapevine takes 1.5 to 2 years. However, grown through ordinary seeds may take 2 to 7 long years.
How many grapes per hectare?
2000 grapes plants per hectare.
How many grapes plant per acre?
800 grape plants per acre are good enough for healthy fruits.
Is grape farming profitable?
Yes, definitely grape cultivation is profitable farming. Farmers can generate a good profit from the 3rd year of the grape plantation.
Read More
Orange Farming Project Report Per Hectare
Areca nut farming profit per acre India
Guava farming profit per acre in India