Due to its cactus nature, warm climates are the preferred growing conditions for dragon fruits therefore in India, it is mostly cultivated in Rajasthan regions. It is a soil-friendly plant and can be grown in poor soil as well but the best soil for dragon fruit plants is sandy loam and clay loam. Soil pH should be 5.5 to 6.5 with good drainage. 
Dragon fruit plants per acre profit
One must avoid planting this plant in winter instead they should plant this tree in hot summers or early springs. These cactus family plants start bearing fruits in the first year only; they start flowering in May to June and deliver their first fruit from August to December. However, the 6-month-old dragon fruit plant produces only 2 to 3 kg of fruits and it needs 16 to 18 months to produce fruits commercially which is nearly 7 tonnes per acre. The good thing is they are capable of producing fruits for up to 20 to 30 years.
Seed sowing and plant cuttings are two methods used for propagating this plant. It is recommended to use the plant cutting propagation method it will take only 8 months to grow the plant, which is the fastest propagation method. One can pick the 6 to 15-inch plant cutting from the healthy mother plant, please avoid the seed sowing method as it will slow down the growing process. 
Read this – Is dragon fruit farming profitable India
If I would say dragon fruit cactus then it is not wrong it is a cactus family plant and hence needs less water. The watering schedule of the plant mainly depends on humidity, climate conditions and the plant's age. Organic fertilizers are always good for growing organic fruits and vegetables so you should provide organic fertilizer to the plant on priority.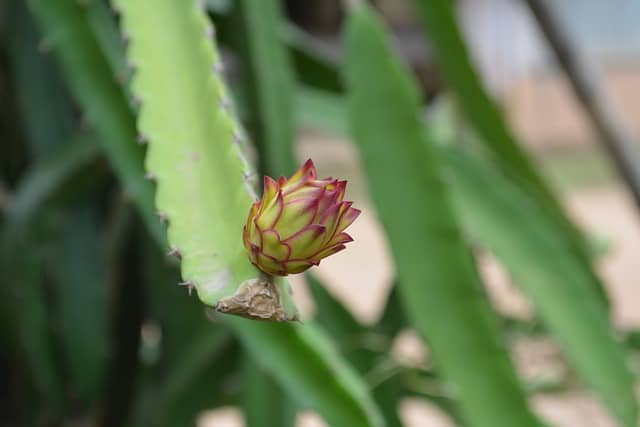 First harvesting can be done after 16 to 18 months just after 1 month of flowering when fruits start changing their colour from bright green to red. Flowering starts from May to June and you can start harvesting from July or August till December.  
If a farmer will plant 500 plants of red pulp variety in one acre then the dragon fruit yield per acre might surprise you. Yes, it's huge because 500 dragon fruit plants are able to produce 6.5 to 7 tonnes of fruits after 16 to 18 months of planting and the production will increase with time. From the 6th year to the 20th year, the production will be on a boom and after good care 500 plants might produce 10 to 12 tonnes of fruits in 1 acre. 
Read – Fruits farming profit cost per acre India
To get the estimated dragon fruit income per acre let's assume the farmer has planted 500 plants. In the beginning, these plants will produce around 7 tons of fruits which is 7000 kg from 1 acre. Its current price is floating between Rs 150 to Rs 200. Multiply 7000 kgs with the current price, Rs 150 x 7000 kg = Rs 10,50,000 now reduce the cost which is around Rs 5 lakh from the profit. Still, the farmer can achieve a net profit of Rs 5,50,00 from 500 plants on one acre of land. 
Growing zone
People often ask where does dragon fruit grows then I would say it is a cactus variety and grows well in hot and humid climate conditions. In India, farmers are growing dragon fruit cactus plants in Maharashtra, Rajasthan, Andhra Pradesh and Kerala etc. People are hardly doing its cultivation in Uttarakhand, Himachal Pradesh because they assume this fruit will not grow in their regions but this is not a fact its a myth. One must try this precious fruit farming in Himachal Pradesh and in Uttarakhand as well. Avoid planting cactus fruit in high hilly areas but the geographical region of these states is very big and they can plant this crop in plain areas where hotness and humidity are more in comparison to hills.   
FAQ
Dragon fruit where does it grow?
The cactus plant grows in warm climate conditions.
How many dragon fruit plants per acre should I plant?
Is dragon fruit cultivation profitable?
Yes, It's a profitable farming business. The price of one fruit is Rs 150 and in 1 acre 7000 kg of fruits is produced by planting 500 plants. Lets do some quick maths to get the profit figure 7000 kg x Rs 150 = Rs 10,50,000 now reduce Rs 500000 and 5 lahks is your profit.
What is the height of a dragon fruit tree?
They are small heightened and grow up to 8 feet tall. 
What is the dragon fruit income per acre?
Farmers are earning Rs 5 lakh per acre by planting 500 plants.
Where can I find the dragon fruit saplings?
You should visit the dragon fruit tree farm or you can also order from online marketplaces like amazon, flipkart and man vs green etc. 
Read More
Dragon fruit farming subsidy in Haryana Rs 12 lakh