Do you know amla's farming profit per acre is huge approximately Rs 251000 and more than Rs 5 lakh per hectare?
Amla farming Introduction 
Amla is well known as Indian gooseberry and Embelicaofficinalis is the scientific name of Amla. Amla is a medicinal plant that is very popular among every age category due to its vital health benefits. Amla fruits can be stored for long periods without any preservation and due to their long life and low maintenance, it is a profitable farming fruit model.
Amla is a greenish colour seed fruit with a sour and sweet taste. Amla plant can easily grow in a dry area and due to its high-quality medicine value, it has a huge global demand. Fruit of this plant is one of the richest source of vitamin C and it contains antibiotic, and antidysenteric properties, therefore, it is used as a liver tonic and immune booster. During the summer season, the crops are mulched with paddy or wheat straw up to 15 cm from the base of the tree. 
You will love this – Areca nut farming profit per acre India
Amla is not only used for its medicinal value but is also used in the cosmetic sectors and oil industries. It is used for making hair oils, shampoo, toothbrushes, face wash, face cream, coal gate, soap etc. This sweet-sour fruit is also used in the food industry especially its pickle is very popular. One can grow amla at home backyard. Amla has a substance called phyllemblin which is obtained from the fruit pulp.
How to start amla farming in India
By practicing some good farm management practices one can easily grow this fruit in Asian countries such as India, Japan, Qatar, Saudi Arabia, etc.
Climate condition for growing Amla
The plant belongs to the tropical region. Two to three years of young amla plants should be protected from hot winds in summer and from frost in winter. However, mature plants can easily tolerate hot winds and frost. 
Amla plant temperature
Amla crop is a temperature-tolerant plant and can easily tolerate frost temperature and hot humid temperatures up to 45°C. 
Profitable fruit farming – Guava farming profit per acre in India
Amla soil type
The soil requirement for gooseberries is light and medium soil. Soil containing an equal amount of sand compost and loam is good for growing amla. For good crop production in India fertile deep soil is required. 
Varieties of Amla
NA – 4, NA – 5, NA – 6, NA – 7, NA – 10, Francis, BSR – 1, Banarasi and Chakaiya are some of the important amla varieties.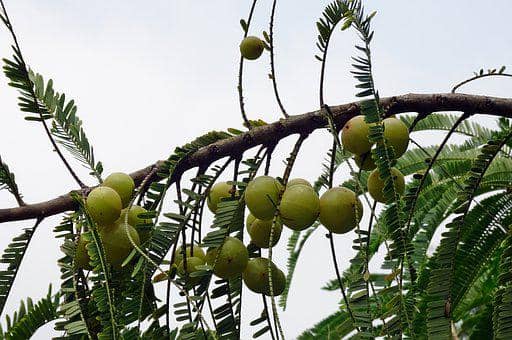 Amla planting
A couple of plowing is done and after that ground leveling is executed. Pits are dug at a 4 to 5 meters distance and exposed to sunlight for 15-20 days. Buds are planted from January to February. During the bedded seedling stage 15 kg FYM and 0.5 kg phosphorous are required on 1-acre land.
Neem cake or 500-gram bone meal is mixed with the soil for better amla yield per acre. While hedge row planting line-to-line distance is 8 meters and plant-to-plant distance is considered 5 meters. For a 1-year amla plant, the NPK ratio should be 2:1:2 i.e 100 gm N, 50 gram P, 100 gm K. Provide the given dose in the month of January-February and the next half dose is applied in August.
The propagation process of amla is done by budding or softwood grafting. One-year-old seedlings are selected for the budding process and buds are collected from high-yielding varieties. 
Gooseberry fertilizer requirements
The best fertilizer for amla trees is organic compost including cow dung, urine, and mulch. Soil containing nitrogen, zinc, phosphorus, potassium, copper, magnesium, and boron is the best soil for amla cultivation because of these substances amla yield per hectare increases unexpectedly. Nitrogen is responsible for vegetative growth and phosphorus increases fruit retention, vitamin c and quality.
Whereas potassium increases fruit retention and quality. 17 to 21 kg FYM for Young plants and 30 to 40 kg FYM  for mature plants is recommended during September month. After applying fertilizer and manure to amla plants irrigation is required.
You want to explore this one – Palm oil yield per hectare per year
Amla plant irrigation requirements 
At intervals of 16 to 22 days irrigation is required in the summer season whereas no irrigation is required in winter and rainy seasons. After applying fertilizer and manure irrigation is done. Remember do not irrigate your plants during the flowering stage it might result in fruit collapse. Drip irrigation is one of the most effective irrigation models to boost yield. While talking about amla yield per tree a 3-year-old plant is capable of producing 30kg of amla fruits. 
Amla tree pruning 
Pruning of the plant is done during the month of December. While pruning the tree, 5-6 good-shaped branches should be left. Make sure to remove disease-effective branches only.
Amla disease pests and solutions
Bark-eating caterpillar – These caterpillars can be controlled by injecting endosulfan 0.05%
Rust – Rust spreading can be controlled by spraying Indofil M – 45 0.3%
Amla harvesting 
Amla farming is mostly done in dry areas where it takes 3 to 4 years from planting to produce fruits whereas in rainy areas it takes 4 to 5 years. During February month amla gets ready for harvesting when it turns greenish in colour. Amla fruits are hard by nature and they do not fall on their own instead a strong shake to branches is required to make them fall. Long hooks can be used to pick the amla fruits.
Amla yield per tree 
A 10-year-old amla tree can produce 55 to 75 kg of amla fruits. The tree can yield up to 70 long years.
Amla farming Project report
Amla farming cost per acre
Amla plants = Rs 5000
Manure and fertilizer = Rs 2000
Irrigation = Rs 15000
Labour charges = Rs 10,000
Agriculture equipment cost = Rs 8000
Plant protection charges = Rs 5000
Marketing cost = Rs 8000
Miscellaneous cost = Rs 5000
Total cost = Rs 58,000
Total cost for 3 years = Rs 174000
Amla farming profit per acre Rs 251,000
Amla starts yielding after 3 years
Amla yield per acre = 5 tonnes
Amla price per kg = Rs 70-80, Rs 80-90, Rs 90- Rs120 or more.
Let's take amla 1 kg price in India Rs 85
Amla production per acre is 5 tonnes and 
5 tonnes = 5000 kg
Amla profit per acre = Rs 85 x  5000 kg amla
Amla Profit = Rs 4,25,000
Net Profit = Amla profit per acre – amla cost per acre 
Net Profit = Rs 425000 – Rs 174000
Net Profit = Rs 251,000
Note – This is the assumption of amla project report the actual figure may vary according to region, demand and variety etc. 
Explore now – Grapes farming profit per acre cost 1 acr
FAQ
Can I grow Amla plant in alkaline soil?
Yes, this plant can grow well in moderate alkaline soil as well as in dry regions.
What is amla soil pH range?
6.0 to 8.0 is the ideal pH range for amla planting.
Is amla farming profitable?
Yes, an amla plantation is a profitable farming modal; 1 Amla tree yield is about 55-75 kg and one tree of gooseberry can survive for 70 years. 
What is the price of amla per kg in India?
Amla price per kg depends on variety, region, and demand. The estimated cost varies between Rs 70-80, Rs 80-90, Rs 90- Rs120, Rs 150 or more.
How many amla trees per acre should I plant?
225 to 250 amla plants per acre can be planted easily.
Hope you got your answer here if not please ask in the below-given comment box. You will definitely get a reply late or sooner.
Feel free to share this information with your school friends and college friends.
Read More
Fruits farming profit cost per acre India
Orange Farming Project Report Per Hectare
Areca nut farming profit per acre India