Sunderlal Bahuguna was known for his efforts toward the environment. Tehri Dam protest and Chipko Movement both were popular movements in India and Sunderlal Bahuguna was the leader of both movements.
Short note on Sunderlal Bahuguna essay
Sunderlal Bahuguna was born on the 9th of January 1927 in Maroda village and died on 21 May 2021 in Rishikesh due to a virus. Sunderlal Bahuguna's village Maroda was located near Tehri Garhwal, Uttarakhand. The great environment warrior Sundar Lal Bahuguna fought against untouchability and anty liquor drive.
Sunderlal Bahuguna's anti-liquor movement was a great success because he started including hill women in his movement from 1965 to 1970.
Sunderlal Bahuguna started social activities under the guidance of Sri Dev Suman at the very young age of 13. Shri Dev Suman was a nationalist spreading a message of nonviolence in India. Before 1947 Sunderlal Bahuguna added people against colonial rules.
Sunderlal Bahuguna was not only a great leader but also a good human being who want peace and prosperity in his life as well as in other people's life. Bahuguna fought his every movement with nonviolence and followed Gandhian principles in his life. 
Sunderlal Bahuguna was a man with a big "Aura" and his influence among the people was increasing day by day. Bahuguna was a fully dedicated person towards humanity, he married his wife Vimla by putting a condition in front of her that after marriage they would live among rural people and establish an ashram in the village.
Sunderlal Bahuguna was a follower of Mahatma Gandhi and following his footprint, he also started his journey to cover the Himalayan Forest and hills. He walked to the Himalayan forest and hills and cover an area of more than 4700 kilometres by walking. While walking in the jungles and hills Bahuguna observed damage done by big development projects to the Himalayan ecosystem and it was also affecting and becoming the cause of subsequent degradation of the social life of people living in a village. 
One of the biggest movements run by Sunderlal Bahuguna was Chipko Movement. Chipko Andolan started in the early 1970s in Uttarakhand which was Uttar Pradesh at that time. The motive of the Chipko Movement was to save trees from being cut down by contractors of the forest. "Chipko" is a Hindi word and Chipko means in English is a hug.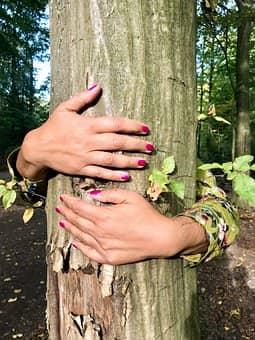 The movement got this name because loggers were attempting tree cutting and in opposition, people were trying to save trees by hugging them. A remarkable slogan was invented by Sunderlal Bahuguna in favour of the Chipko Movement "Ecology is a permanent economy". Sunderlal Bahuguna tried his best and got success to bring the movement in contrast through a 5000 km trans-Himalayan march. From the period of 1981 to 1983 Bahuguna along with his wife travelled from village to village and gathered support for the movement.
The Chipko movement was so big and becoming bigger. Sunderlal Bahuguna's meeting with Prime Minister Indira Gandhi was rememberable and resulted in the favour of the movement Chipko. In the meeting, it was decided to continue the ban on cutting trees. Gaura Devi was one of the pioneers of the Chipko movement and Sunderlal Bahuguna was close to her. 
Anti Tehri dam protest was yet another remarkable movement of Sunderlal Bahuguna. Sunderlal Bahuguna ran anti-Tehri dam protests for decades. Sundar Bahuguna used Mahatma Gandhi's Satyagraha technique and went on a hunger strike several times at the banks of the Bhagirathi river. Sunderlal Bahuguna kept a 45-day long fast which he broke after getting the assurance from then Prime Minister PV Narasimha Rao of the appointment of a review committee on the ecological impacts of the dam.
During the tenure of Prime Minister H.D. Deve Gowda Bahuguna also went for another long fast of 74 days at Rajghat. Despite a long court case for decades in the supreme court, the Tehri Dam work started once again in 2001 and Sunderlal Bahuguna got arrested on 24 April 2001. Tehri Dam started filling in 2004, later  Sunderlal Bahuguna and his wife went to Dehradun and started living there.