Sheep farming is done to produce milk, meat and wool. Small sheep are raised and the procedure of rearing and breeding them to get milk meat and wool is called sheep farming. Sheep farming is well known as sheep husbandry as part of animal husbandry. This livestock farming is very important, especially for village farmers and it plays a significant role in the livelihood of farmers. 
When starting sheep farming in UAE there are various breeds available in the market but farmers should pick those breeds that can adapt conditions of their region quickly and have good demand in the market so that they can be sold easily. 
Sheep farming advantages
Wool – Sheep wool is used for multi-purpose this product is not only used for making clothes but also used to help insulate the house. Its wool is helpful in absorbing toxins from the home, it is a flame-resistance product. Sheep wool thread is sustainable and recyclable it can also block noise, and it is non-carcinogenic. 
Meat – Apart from taste sheep meat is full of nutrients and the presence of various nutrients and minerals makes it a healthy food. Farmers used to rear sheep to slaughterhouses or to retail markets. Farmers usually sell them to earn money and make their livelihood a bit easier. 
Milk – Sheep milk is counted as the most nutritious milk. In comparison to cow milk the sheep milk healthy product contains high levels of vitamin C, B, B-12, thiamine and riboflavin. Its milk is helpful in improving the immune and nervous systems of the body. The milk is capable of producing more cheese in comparison to cow milk due to its more solids present in it. Ricotta, feta and Roquefort are some of the different types of sheep cheese available in the market. 
Before starting a farm you should do a little survey while purchasing sheep. If the farmer is focusing on selling milk and milk-made products then he or she should buy milk-producing sheep breeds. Whereas, while planning to sell meat farmers can purchase non-dairy breeds.
Weed removal process – Sheep can be used to remove all the unwanted grass or weed. They are natural lawn movers and you can use them to remove the grass on big grounds or golf courses. Farmers can also earn money by selling their services to people who want to clean their big lawns without using electronic lawn movers.
Low-maintenance pet – Sheep do not need much care they also don't demand costly food. Instead, they produce expensive products like organic milk, cheese, wool etc.
Sheep price in UAE
UAE sheep price in 2023 is approximately US$ 3.5 to US$ 4.15 per kg. In pounds, it is $1.5 to $1.88 per pound.
Large-scale sheep farming challenges in UAE 
Sheep and goat farming in UAE is carried out on a large scale because there are various challenges in the farming sector such as the unavailability of natural pasturing. Some significant challenges faced in farming in UAE are discussed below:
Intense heat and humidity in UAE – The United Arab Emirates is a very hot country and in the summer months, the temperature goes above 50 degrees Celsius. Sheep need protection from this kind of extremely hot temperature. It is recommended to UAE farmers that they should use such sheep breed that can sustain in the hot temperatures.
Lack of natural fodder – UAE country's geographical location is naturally not helping the farmers and there is huge unavailability of grazing fields. Which made farmers depend on the factory to manufacture animal feed. 
Total Goat and Sheep in UAE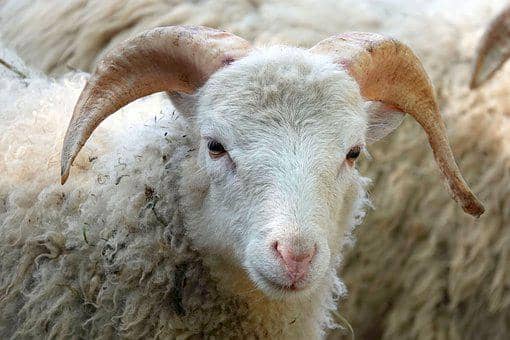 Total sheep and goats in UAE – sheep and goats strength was around 5 million by the beginning of 2021 year. In which the average sheep in UAE was around 20,54,572 and the approximate goat in UAE was 23,99,264.
Abu Dhabi  Ras AI Khaimah and Sharjah are the top 3 emirates that account for 91% of the total number of sheep in UAE. There are large sheep farms in Abu Dhabi and 16,68,134 is the figure for sheep in Abu Dhabi which is the highest number of sheep found in UAE. 
In case you missed it – Goat farming cost and profit in india
Sheep and goat market in UAE 
United Arab Emirates country prefers to import live goats and sheep to fulfil the demand of local people. According to UAE agriculture rules they can import sheep and goats from specific countries only. The United Arab Emirates Ministry of Climate Change and Environment is responsible to issue the list of specific countries to import livestock.
With approximately 33% of total exports, India is the highest exporter of goats and sheep to the UAE. Apart from India UAE imports goats from Somalia, Australia, Oman etc. UAE cannot import sheep and goats from Austria, Bolivia and some other countries. 
How to start sheep farming in UAE
To start the livestock farm in UAE beginners should follow the important points elaborated below:
Location
Finalizing the farm site is the first and basic step to opening a farm. Finalizing of location is necessary because some rules and regulations may change according to the other locations. It is considered first to decide the emirate in which the farm should be located. Abu Dhabi is one of the seven Emirates located in UAE more importantly Abu Dhabi is well known for sheep and goat farming and other agriculture so it is considered the best place for livestock farming.
Selecting a suitable economic zone is the next step after deciding on the Emirates. It is advised to open a new farm near the place where the goat and sheep farm is already established. The motive for doing this is to get the advantage of ready logistics and other resources. 
Rent or buy farm in UAE
While starting a livestock company in UAE It is important to decide whether you want to purchase land in UAE or start the farm on rent. It is compulsory to submit the tenancy contract to the department of economic development (DED) in case of rent. If a farmer is planning to open a farm in Dubai then EZARI is presented. EZARI is a government programme to regulate all tenancy contracts. It is evidence of a tenancy contract. 
Legal requirements UAE farming 
Legal clearance from the Government of UAE and other authorities is required to open a new sheep farm. To start livestock farming, a livestock production farming licence is necessary for people in UAE. Permission for livestock farming is issued by (MoCCA) the United Arab Ministry of Climate Change and Environment. Documents regarding livestock farming are given below:
Firm trade name obtained from the local authority.
Environment licence copy from the relevant authority. 
Image of the site as a farm plan. 
Farm plan and location approval by local authorities.
A detailed breakdown of the building including administrative, animal isolation and feed storage.
Lease or ownership contract copy. 
Valid livestock trading licence copy. 
Data including the name, ID number, and licence of the working person who will work in the facility should be registered. 
Documents regarding methods and techniques for animal breeding.
Operating plans of the establishment such as nutrition plan contingency plans and healthcare plans etc.
Visa arrangement 
The person who is willing to start a sheep farm must have a residency permit. Entrepreneurs from foreign countries are often interested in the agriculture business because of the ease provided by the government to improve food security. The UAE government also provides a hundred per cent ownership to foreign investors. Foreign investors are very much interested in livestock farming in UAE due to favouring government policies. 
Residency visa process 
Medical test report, Emirates ID registration, Visa Stamping, Entry permit application, Adjustment of status. 
Common breeds used in sheep farming
Najdi Sheep – Najdi sheep is originated in the Najd region of the Arabian Peninsula and mainly grown for milk and wool.
Nuaimi Sheep – Originated in the Syro-Arabian desert, these sheep are native to southwest Asia. 
Jaziri Sheep – This breed is native to Egypt and primarily reared for meat.
Kashmiri Sheep – This breed is mainly reared to obtain wool.
Somali Sheep – This is the bread that is reared for meat and has a fat tail.
Bank accounts
A UAE bank account is necessary for entrepreneurs who want to enter into any monetary transactions. Fund requirement depends on the type of breed, location and visa. Around 10% is the average rate of interest charged by the banks of the United Arab Emirates. 
FAQ
How many sheep and goats are found in UAE?
The total number of sheep and goats found in the United Arab Emirates was 5 million by the beginning of 2021. There were approximately 2399264 goats and around 2054572 sheep in UAE country.
What is EZARI in UAE?
It is a government programme to regulate all tenancy contracts in UAE?
How many Emirates are in UAE?
There are 7 Emirates in UAE.
Who is responsible for issuing permission for livestock farming in UAE?
Permission for livestock farming is issued by the United Arab Ministry of Climate Change and Environment.
What is the full form of MOCCA?
MoCCA stands for the United Arab Ministry of Climate Change and Environment.
What is the sheep price in UAE?
UAE live sheep price in 2023 is approximately US$ 3.5 to US$ 4.15 per kg. Whereas in pounds it is $1.5 to $1.88 per pound. United Arab Emirates dirham price is AED 12.3 per kg.
Read More