Geranium is a herb widely used in the medicinal sector. It is also a decorative flower used in offices, exhibitions, houses, events and marriages etc. How one can get free geranium plants is explained here along with a business possibility idea.
Geranium farming training and free plants
Geranium farming in Maharashtra is quite popular and farmers wanted training and subsidy for the same. You need to know whether you live in Maharashtra, Nagpur, Lucknow, Delhi or other states you can easily apply for geranium training and also get free plants. One just needs to approach the government organisation CSIR-CIMAP to get benefits for a subsidy, training and free plants.
Geranium oil price in India
15,000 Rs per/kg (Average price)
10,000 Rs per/kg (minimum price)
25,000 Rs per/kg (maximum price
Geranium cultivation
It is a perennial aromatic plant widely known for its oil content. Geranium cultivation is extremely profitable and one can approach CSIR CIMAP for geranium subsidy and training free of cost. Yes, this government organization is helping farmers and providing free training to them.
The Indian government is planning for huge export of geranium oil from India, they have already taken the initiative to start various missions to increase production in a very healthy way and one of the most ambitious missions of the Indian government is the Aroma mission. The plant has also medicinal value so it also falls under Ayush apke dwar scheme launched by the Indian government.
This is the right time to invest in this medicinal crop. It is much more profitable than mentha, with a minimum investment of 8-10 thousand and a profit of 1.25 lakhs approx in one-acre land. Geranium price per kg is Rs 15,000 the highest price is Rs 25 thousand per kg and the lowest price is Rs 10,000 per kg.
It is one of the aromatic and herbaceous bushy plants commercially grown for its essential oil. Plants can also be used for ornamental purposes. The plants that are grown for decorative purposes are called ornamental plants. Ornamental plants beautify the area around your office, home, etc.
Climate Requirement
This crop can be grown in various climate conditions it needs a humid atmosphere this crop can survive in lower altitudes and temperatures up to 42degree c. This crop requires well-distributed rainfall of 1000 to 1500 mm throughout its period it does not require much water-heavy rainfall causes many diseases like root rot and thus decreases the yielding. During the rainy season, you can protect it with a poly shelter.
Soil requirement
Well-drained porous soil is well-rich in organic matter. It is a shallow-rooted crop best in red lateritic soils with a pH value of 5.5 to 7.0 it is rich in calcium. Scented geraniums are hybrid plants most commonly grown from cuttings. Start cutting at any time during the year. It is recommended to practice soil testing before geranium farming, you can get 4 in 1 soil tester from the below button. This soil tester can test PH value, moisture, temperature, sunlight, and the intensity of soil
Common names
Geranium – Hindi.
Scented Geranium – English.
Pannir soppu.
Panir patre – Kannada.
Geranium – Tamil, Marathi, Telugu.
Species and verities
There are a lot of species some are cultivated for horticulture uses and some are for pharmaceutical products, look at the list of geranium species.
Geranium Cinerium.
Dalmaticum.
Endressii (Endres's cranesbill).
Clarkei.
Erianthum (Wooly).
Fremont (Fremonts).
Himalayanse.
Maculatum (Wild ).
Macrorrhizum (bigroot cranesbill).
Sylvaticum (wood cranesbill).
X magnificum (showy).
Phaeum (dusky cranesbill).
Platypetalum (broad-petaled).
Pratense (meadow cranesbill).
Renardi (Renard).
Sanguineum (bloody cranesbill).
Subcaulescens (grey cranesbill).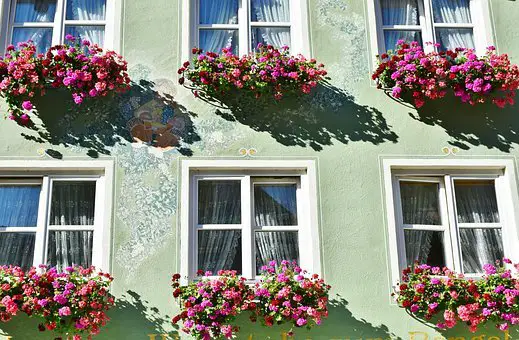 Geranium is an ornamental plant used to decorate homes, offices, etc.
This plant is also known as the poor man's rose.
The family name of geranium is Geraniaceae.
Geranium in Kannada paneer patre.
Botanical name and family: Pelargonium.
Type of plant: tender herbaceous perennials.
Pelargoniums originated in Africa; some are hybrids.
Most scented varieties are hardy only in Zones 9 to 11, but they can easily be overwintered as houseplants, or grown as annuals.
Bloom time: Late spring or summer.
Plant description
The stem of the plant is cylindrical, woody at the base, pubescent, green when young, and turns brown with the age. The leaves of this plant are highly aromatic in nature. This plant is also known as rose geranium. It is mostly used in the cosmetic and perfume industry. Geraniol and citronellol are the main ingredients in it. Commercial cultivation is very much profitable if it meets its ideal condition
Geranium oil farming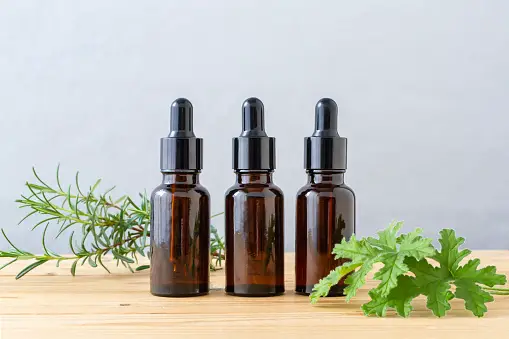 The essential oil is in small bottles.
Propagation, planting, and spacing play an important role in the cultivation of this crop. Propagation of geranium is done by cutting as there is no seed setting in these species. Spacing should be 5 to 6 cm depending on the variety. The oil extracted from the stem, leaves and flowers has excellent health benefits and is used in aromatic treatment.
If you are in a rural area then you must have faced problems of damage through animals but in this case, animals are not involved in any damage. Earlier mentha cultivation was popular and still, it has its own benefits but in the last couple of years geranium has come out with higher profits than mentha and now experts are eyeing geranium instead of mentha plants for more profit in less time. Cultivation of this crop is also good to start in hill areas.
Irrigation required
Geranium cultivation does not need much water, in fact, you have to protect it from the water in the rainy season, believe me, it's not that difficult and it is the only effort you have to give, and for that, you can plan poly shelters which are quite reasonable. Recently farmers have started comparing geranium vs mentha farming and finding geranium more beneficial and easy than mentha.
Cost and profit
Geranium cultivation needs a small investment and can generate good profit please follow the details given below.
One can start the cultivation for Rs 40 thousand in 1-acre land and can easily touch a profit of approx,1 lakh 25 thousand to one lakh seventy thousand in 8 months.
To book a good amount of profit you can start the cultivation of this plant on at least 1 acre land in which 15 to 18 thousand plants can be sowed. You can get all 15-18 thousand plant materials free from the CSIR-CIMAP organization.
How to get free plants from government
You can get free geranium plants from the government organization called CSIR-CIMAP. The government of India is running an Aroma mission to promote the cultivation of aromatic plants therefore they are providing free aromatic plants like geranium, lavender etc. You should avail this opportunity.
Harvesting
When to harvest: Pick individual leaves from plants at any time during the growing season once plants are 6 inches tall.
How to harvest: Use a snip of garden scissors to harvest leaves. Do not tear leaves from branches.
Growing time
The geranium plant takes 4 months time to grow up.
1st cutting – After 4 months this crop is capable of producing a minimum of 10kg oil.
2nd cutting – After 8 months (1st cutting: 4 months + 2nd cutting: 4 months = 8 months) it can produce 6 to 7 kg of oil.
Geranium farming profit per acre
First, you need to start cultivation of this crop for that you need to invest at least Rs 35 to 40 thousand. You need 1 acre of land in which 15 to 18 thousand plants can be sowed to book a good amount of profit and can easily touch the profit of approx, Rs1 lakh 70 thousand.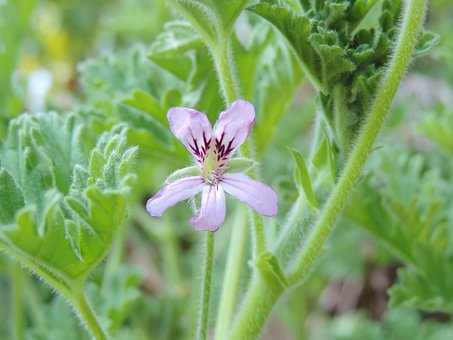 One can sell 1 kg of geranium oil for a minimum of Rs 10,000 its not fix rate and the average rate to sell the oil is 15000 to 20000 in the market in the last couple of years it has given huge benefits. To make a carrier in the geranium oil extraction business one should implement the necessary steps and some of the important steps are also given in this post.
Geranium oil extraction business
While starting geranium oil extraction as a business one has to invest much more money than geranium production business (production of geranium through cultivation) because one just needs to invest approx 35 – 40 thousand and land is required but in the oil extraction business, you need machines which are quite expensive near about 10 lakhs. The machinery required for this is given below for a better idea also go through a steam distillation process which is also mentioned below :
Machinery Required for extraction of geranium essential oil
Condenser
Evaporate vessel
Florentine flask
Steam boiler
Pump (condensate)
Pump (cooling water)
Cooling tower
Why steam distillation is used?
Steam distillation is the most common method which is used to extract oil from geranium. Steam distillation is the process that is used to separate substances which are not soluble in water, volatile in steam, and have high vapour pressure at the boiling temperature of the water. In easy language, we can say steam distillation is the process to extract oil from plants. The extraction of geranium oil by steam distillation takes 4 to 6 hours and after that oil is stored in drums, glass bottle made up of steel and aluminium.
Where to sell geranium oil
One can directly contact CIMAP Central Institute of Medicinal and Aromatic Plants for a direct meeting with geranium oil buyers
A few addresses of geranium oil factories are given below:
Gujarat – K.K Enterprise, U-22 Mahalaxmi Market, Gujarat- 394210, India, K.K Enterprise Anthamber Tops Manufacturer in Surat Gujarat India
Uttar Pradesh – Aromalake Export No. 76, Dak Bungalow Road, Kannauj, UP-209725, India- Aromatic oil, Natural Essential oil, Absolute oil Manufactures
Tamil Nadu – Reho Natural Ingredients No. 6 Bhagvatsingh 2nd street Dr. Ambedkar Road, Velandipalayam, Tamil Nadu- 641025, India – Reho Natural Ingredients, Natural Honey Manufacturer and Exporter in Coimbatore
New Delhi – Katyani Export 325, 3rd floor, Vardhman Big V Plaza, Plot No.12, Near M2k, Road No. 44, Rani Bagh, Pitampura Delhi – 110034, India – Oil Manufacturer Katyani Exports New Delhi
In case you miss this – geranium farming profit and cost
Geranium farming training and subsidy
CSIR (Central Institute of Medicinal and Aromatic plants) – It is a reputed government organization which is situated in Pantnagar and Bageshwar (Uttarakhand), Lucknow and some other regions of India.
CSIR-CIMAP is working very effectively it is also guiding people to do different types of farming. In the past two years, CIMAP has done tremendous work In the field of geranium. CIMAP helps to fix your meeting with geranium essential oil buyers. CIMAP is providing geranium plants as a subsidy, the organization has already delivered free plants.
Note – Indian government is running the Aroma Mission.
CSIR-CIMAP also provides training for geranium farming under Aroma Mission. For geranium farming training you can contact CIMAP by visiting their website through the link provided.
Health benefits of geranium essential oil
Geranium essential oil is useful in skin diseases like dermatitis, acne, rashes, and some other
Geranium essential oil is used to detox the body it can increase urination and flush out toxins this happened due to the diuretic properties present in the geranium oil.
The essential oil helps to reduce wrinkles.
The essential oil has a satisfying aroma.
This oil has anti-inflammatory properties.
It is also helpful in reducing high blood pressure.
The essential oil is good not only for skin infections but also for respiratory infections.
This oil is excellent for the health of your teethes and gum.
Geranium essential oil is very useful in hormonal balance.
Uses of geranium oil
The oil is mostly used in messages.
Combined geranium oil with lavender or coconut oil for the best results.
It is useful in hair damage prevention.
Adding a few drops of the oil with shampoo can fetch better results.
The aroma of geranium oil can make you feel happy and enthusiastic.
It is recommended by many doctors for healthy and good-looking skin.
This oil is the best treatment for the anti-aging
Skin Benefits of geranium oil
It helps in hormonal balance, stress relief, depression, and improving blood circulation, it is also helpful with skin problems. It helps skin from skin issues such as pimples, acne, rashes, dermatitis, and fungal infection too. It is very good for the face also. Geranium oil works very effectively as antiaging just dabbed the oil around the eyes you can prevent sagging of the skin, and prevent fine lines and wrinkles too. It is very popular in massage therapy one of its therapy: aromatherapy is very popular among youngsters.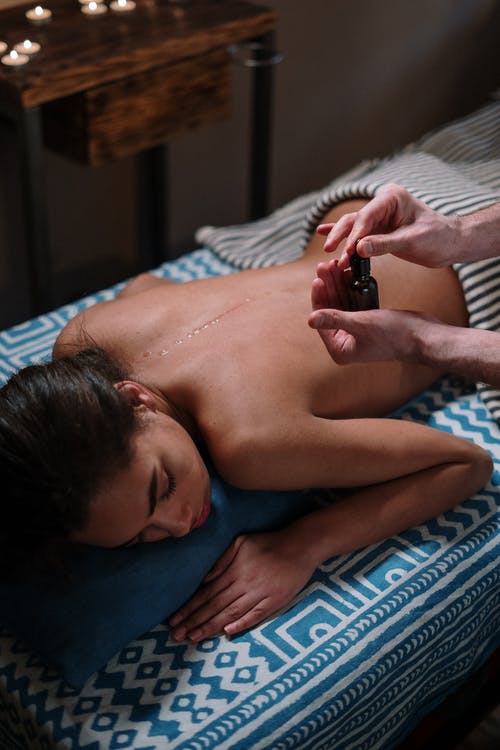 Aroma massage therapy. One of the most popular therapies in the world.
What is contract farming?
In contract farming, there is a contract between companies and farmers in which companies are bound to pay a fixed amount to the farmers, for their land, for a fixed period geranium contract farming is also available for those who want to start geranium farming.

FAQ
What is geranium and its uses?
It is a herb plant used for medicines. It is also used as an ornamental plant.
What is the geranium oil price per kg in India?
15,000 Rs per/kg (Average price)
10,000 Rs per/kg (minimum price)
25,000 Rs per/kg (maximum price
Is geranium farming profitable in India?
Yes, geranium farming is profitable in India. CIMAP is a government organization that is helping farmers by providing geranium farming training. In training, you will learn the skill of how to increase the growth of plants and how to increase the oil yield.
CIMAP is working under the aroma mission, which is an optimistic mission run by the Indian government and through this mission, the government is promoting aromatic and medicinal plant cultivation. The Indian government has decided to export oil from India on a large scale so this is the right time to invest in geranium farming.
Relevant content
Geranium farming profit per acre
Lavender farming profit per acre
Join our Telegram Group – For Regular Updates