A 12-month-old emu bird price in India is between Rs 20000 to Rs 25000. You may be surprised after knowing the emu bird egg price is between Rs 500 to Rs 1500. For rearing emu birds the infrastructure cost would be between Rs 60k to 70k.
Emu bird farming profit
Emu farming is one of the most expensive farming with huge returns. The 3-month-old emu chick price in India is between Rs 4000 to 5000, yes you have to pay this amount for only one emu chick. Whereas a 12-month-old emu bird price varies between Rs 20000 to Rs 25000. You must have a shade with at least 30 pairs.
Farming needs proper shelter and open space, overall a good infrastructure for rearing these big birds is needed. The cost of infrastructure would be between Rs 60k to 70k. However, infrastructure cost mainly depends on the type of material you are using for the shade and other departments. The feed cost for 1 kg is between Rs 20 to 28.
Emu bird price in India Rs 20k to Rs25k
The price of an emu bird is Rs 20000 to Rs 25000, this is the price of 12 month old bird. Whereas 3 to 4 months birds are available at the price of Rs 4000 to Rs 5000.
Eggs laying time and season
Female emu birds start laying eggs after 24 to 28 months after birth. Emu breeder is capable of laying 12 to 16 eggs in the first season. These birds used to lay 1 egg within 4 to 5 days and their laying season is from December to March. With time egg-laying capacity of birds increases by 5 to 10 eggs, in the fourth and fifth-year female birds are able to produce 45 to 60 eggs in a year. 
Brd egg hatching unit
These tall birds are not able to hatch their eggs on their own and for successful bird farming egg hatching machinery is required with skilled labour. However, not too much labour is required for this process, the person should know the hatching temperature, humidity and time. Initial training can be provided to the manpower for controlling the machinery. The cost of hatching machinery is between Rs 90000 to Rs 1 lakh. 
Egg marketing
Before starting an emu egg business you should do a survey for at least six months to capture the experience and knowledge of selling eggs in the egg market and meat markets. If you will not get any buyers after establishing your egg business then it will be a loss for you. To avoid fake buyers and to reach direct customers you should set up hatching units in your own emu farm. By installing hatching units in your own bird farm you can reduce the cost of hatching as well. 
Selling emu eggs are different in comparison to selling any other poultry eggs, you should prepare a business plan before starting emu cultivation. There is no harm to approach the market in multiple ways physical and virtual or online. To establish your physical market you can contact big restaurants, hotels, egg farmers, egg markets etc. Whereas you can also create your online store along with a website to boost your selling process. If you are using Facebook then you can use the Facebook marketplace free of cost, it is a place where people used to sell and purchase products directly.  
Emu slaughter business
The slaughter business is yet another option in emu farming. In this business you can purchase 3-month-old chicks and rear them for up to 15 months then you can sell them in the open emu market. The 3-month-old emu chick price varies between Rs 4000 to Rs 5000 Whereas the 12 to 15-month-old bird price varies between Rs 20000 to Rs 25000.
Project Report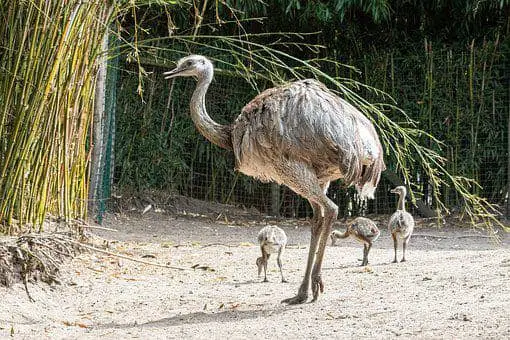 100 emu birds
3 monthly old bird cost = Rs 5000
Bird rate = 100 emu birds x Rs 5000
Emu birds cost = Rs 500000 
Feed and labour cost = Rs 100000
Shed cost and fencing cost = Rs 150,000
Hatchery machine cost = Rs 1,00000
Vaccination cost for a 15-month-old bird = Rs 6500 per bird
Vaccination cost = Rs 6500 x 100 birds = Rs 6,50,000
Total cost = Rs 1500000

Emu bird profit
Emu bird weight after 15 months = 62 to 65 kg (approximately)
Live bird price per kg = Rs 250 to Rs 300
100 birds weight in kg = 100 emu birds x 65 kg = 6500 kg
100 birds = 6500 kg
Profit = 6500 kg x Rs 280
Profit = Rs 18,20,000
Net Profit = emu bird profit – emu cost 
Net Profit = Rs 3,20,000

Note – This is the assumption of emu bird 'Project Report' actual profit margin may differ according to the price, location, market, variety etc. This is only a meat calculation, egg calculation is not involved in this figure. Moreover, after reducing shed and hatching machine costs your profit will increase by next year. 
FAQ
What is the price for 1 emu chick?
A 3-month-old emu chick price varies between Rs 4,000 to Rs 5000.
What is the 15-month-old emu bird price in India?
A 15-month-old emu slaughter price varies between Rs 20,000 to Rs 25,000.
Is emu farming a profitable business?
Yes, emu farming is a profitable business. But it needs good investment as well and by investing Rs 15 lakh for 100 emu birds one can earn around Rs 3,20,000 after 15 months after deducting all the expenses. 
How long emu bird starts laying eggs?
The tall birds need at least 24 to 28 months to start laying eggs.
What is the emu bird eggs' price in India and globally?
One emu egg price in India and in the international market is between Rs 600 to Rs 1500.
How many eggs did emu bird lay in a year?
12 to 16 eggs are laid by emu birds in a year. 
Read More
Animal Husbandry Project Report Stats