Due to growing awareness about the environment and agriculture, there is a huge opportunity in the nursery plant business. This content consists of each and every detail including paper, permission, and licence. This blog post might help you to make your own plant nursery business plan.
What is nursery
A nursery is a small area of fertile land where plants and trees are prepared with the help of seeds, saplings and other agricultural materials. These ready plants and trees are then sold to the market and people as house plants, garden plants, kitchen plants and commercial farming. A nursery is a place where mostly hybrid seeds were used to prepare plants and kept under observation with care until they are ready to install in houses, gardens and farms. Nursery is a business where various types of plants were prepared for selling purposes. The plants prepared in the nursery are house plants, show plants, fruit plants, flower plants etc.
Objective of nursery 
The aim of plant nurseries is to provide good quality seeds and saplings to houses and farms. So that good quality crops and trees can be produced. Apart from this, the main aim of a plant nursery is to sell high-quality seeds, saplings and other crops to gain a good amount of profit. 
How to start a plant nursery business in India online offline 
Today, in 2022 people are more aware of the environment and slowly but steadily moving towards the agriculture business, which is creating immense opportunities in the nursery business. Now people are also maintaining a small nursery at home, especially in big cities like Mumbai, and Bangalore where they hardly find any space for gardening. Not only big cities but people from small cities in Uttarakhand, Himachal Pradesh, Uttar Pradesh etc also started small nurseries on balconies.
Varieties of plants provide you with more opportunities to open a specific nursery. You can choose to open a specific garden nursery or a mixed plant nursery the choice is totally yours.
Flower nursery
fruit nursery
Vegetable nursery
Medicinal plant nursery
Forest plant nursery 
Flower nursery
Flower nursery – Flower nurseries are also called ornamental plant nurseries. Ornamental nursery is searched by people to get ornamental flowers and plants. This is a high-demand nursery and people often search for this type of nursery in most states. Flowers are loved by everyone and due to their seasonal nature, they don't need care for a full year. To start a flower nursery one can pick Marigolds, Roses, Gladiolus, Lilly, Salvias, Tecoma, Portulaca, Jasmine, Hibiscus, Asters or Miniature roses.
How to start your own Internet business
Fruit nursery – Fruit nursery requires high attention but at the same time, this nursery type is also able to produce a huge profit. Some of the popular fruit species are Pomegranate, Oranges, Mangoes, Common fig, Mulberry, Jackfruit, lemon fruit, Banana fruit, Papaya, Apple, Guava, Sapota, Indian sweet lime, Dragon fruit and coconut fruit etc. 
Vegetable nursery – People are now preparing homegrown vegetables instead of pesticide vegetables. To grow different vegetables at home they need different varieties of vegetables from the nursery. This is turning into a golden opportunity to start a vegetable nursery. Some of the popular vegetables are Spinach, Tomato, Radish, Sweet potato, Peas, Brinjal, Pumpkin, Onion etc. 
Medicinal plant nursery – Medicinal nursery is yet another profitable business model because not only people are more aware today but also the government is promoting medicinal plant cultivation in India on a large scale. You may hear about the recent government medicinal plant scheme called "Ayush Apke Dwar" through which the government is promoting medicinal plants and they also distributed free medicinal plants.
You must read about Ayush aapke dwar medicinal plant scheme. Now people are more health-conscious therefore turning towards yoga and healthy diets to avoid disease and bad lifestyles. For a healthy diet, they prefer to grow medicinal plants at home and garden which provides a good business opportunity. Everybody wants to look beautiful and they are keeping good care of their skin thus aloe vera gel business gets an opportunity here. Some of the popular and important medicinal plants are Bryophyllum, Aloe vera, Vertivar lemongrass, Sagargota, Curry leaves, Vasaka, Costus, Igneus etc.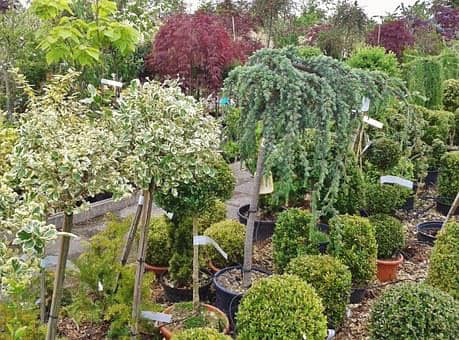 Forest plant nursery – Nurseries that provide forest plants that are not available easily at other nurseries. In forest nurseries, different types of saplings are grown which turn into large trees after a few years. Some of the popular trees grown in forest nurseries are the Eucalyptus tree, Teak tree, Poplar tree, Oaktree, Pine tree, Banyan tree etc. 
So, it is an overview of different types of nurseries. You can decide which type of nursery you want to open depending on resources, availability, land space other requirements and your interest. 
Plant nursery requirements 
By going step by step you can solve all the puzzles to open a plant nursery. You should follow the below-given steps in order to open a plant nursery near you.
Land requirements
The land requirement in the agriculture business is the basic and first step. You need fertile land to start a nursery, good thing is that one can start it from small land. In the initial days, you can start nursery at your home. By starting a nursery at home it will be easier for you to maintain and most importantly it will reduce the cost of land rent which you have to pay while taking land on rent for the nursery. This will automatically result in good profit in the initial days.
Before selecting land for a nursery you should check the basic needs such as non-toxicity and free of termites, fertility of the soil, nutrition, moisture content and other insects. All these factors are important for the growth of plants so keep these in mind while selecting the nursery land. Once the land requirements are met you can start the process. Various soil types are required in your nursery if you are starting a mixed nursery of different plants.
You have to give some extra time and an extra amount to purchase different kinds of soil in your nursery for different plants. After purchasing suitable soil for various plants divide the land for different species. One should carry out the traditional method and use organic farming techniques to make the land more fertile. 
Land permit
A land permit is necessary for a horticulture nursery or any plant nursery. For any commercial use of land, a permit is required from a local authority. Even if you are opening a nursery at your home you need a permit. You should reach the local authority of your city to get permission for a nursery. 
Agriculture licence
Nursery plantation is a part of the agriculture unit therefore agriculture licences are required to open a nursery. You should visit the agriculture government website for further information and the procedure to apply. Local government authorities will inspect your newly constructed nursery. 
Seeds and saplings for nursery
After completing all the above documentation and the land selection process you need good-quality seeds and saplings for your nursery. You can purchase seeds and saplings from different gardening firms. You should purchase fresh seeds and saplings from direct owners and if you have access to their farms you can cut saplings on your own. While cutting the stem, cut them diagonally from the top and straight at the bottom. During seed and plant, sowing processing in your nursery provide sufficient space between them. By doing this they can be sagarated and gets proper nutrition and sunlight.
Soil for nursery
Soil is an important component required for a nursery. Hence, pay more attention while arranging soil. Using correct proportions of moisture, manure and fertilizers, and adding more fertile soil are some important factors responsible for the good growth of plants. It will be better to reserve a specific area for storing different types of soil only. You can divide this area into columns and fill the columns with various soils such as sandy soil, loamy soil, red soil, brown soil, wet soil etc. Sandy soils are muted by most woody plants so arrange sandy soil in large quantities.
Nursery tools 
No need to keep agriculture tools in a bulk. Instead, you can keep some specific tools for pruning and cutting, and fruit used for digging and shaping the plant. Keep tools to clean the garbage in the nursery, water tanks, pots and buckets are also required. 
Chemical fertilizers for nursery plants
After arranging plants and the necessary requirements for the nursery your work is still not completed. All efforts can be damaged by pests and insects. These pests and insects can damage your fruits flowers and other crops in order to save your plants you should use pesticides, herbicides and fungicides. You can use Nano fertilizer and spray which is launched by the Indian government in the recent past.
You must use organic fertilizer specially for medicinal and aromatic plants and flowers to keep them natural. Medicinal plants may lose their medicinal value by using more chemical sprays which will result in low quality and if you have big buyers like Patanjali and Dabur they may give you less amount after checking the quality of your product.
Hiring people for nursery
According to the business plan, you must hire a few people for pruning, planting, spraying pesticides, irrigation and weeding. However in the beginning you and your family members can do this on your own. People who are maintaining a nursery at home are doing all these things own by involving their families. For your outdoor nursery, you must hire 1-2 permanent employees to take care of your nursery for 24 hours. Assign them the duty of introducing your crops to the viewers who visit the nursery.
Nursery plant business marketing
After putting all the efforts to establish your brand nursery now it's time to catch the plant buyers with various marketing strategies. 
Newspapers
However, it's an old method but it may work for you. You can publish information about your brand-new nursery in local newspapers to get noticed while ok people. 
 Pamplets
For publishing, a small paragraph about your nursery paper agency may charge a good amount.  therefore publishing the nursery information per day will result in high costing to avoid this extra burden you can use pamphlets and approach the paper delivery boy and guide him to deliver your pamphlets to each newspaper this will be a cheaper way of publicity. 
Door-to-door campaign
Another old and successful method for local business. By visiting door to door you can directly elaborate to your customers about your new nursery. 
Create a website
Creating a website is the latest marketing strategy. A website will help you to reach a vast audience. In today's era website making is not that difficult and there are various platforms like WordPress where you can easily create a website or you can drop a comment below for creating a website. 
You are reading this content on WordPress, creating the website you need to purchase domain and hosting. Domains are .in .com .edu etc and hostings are cloudways, a2 hosting, greengeeks, hostinger. For best performance, you can use cloudways or greengeeks hostings both are worth it. If you want to pay monthly then cloudways in the platform provides you with a monthly payment option and the payment depends on your consumption. We recommend you use cloudways hosting for the best server speed, live chat, SSL and other facilities. You are reading this post on cloudways hosting. Just click the below-given cloudways banner to reach there.
FAQ
How can I start a plant nursery in India?
First, you need small or medium-sized fertile land.
You can also start a nursery from your garden backyard.
Permission from your local authority is required to start a nursery.
Then you need various soil collections along with seeds and saplings.
What is the procedure for getting a plant nursery licence in India?
Fill out and submit 1st form application.
In the 2nd form, a verification report is given by the horticulture director. 
Paid challan receipt.
Legal process outsourcing (LPO).
A Blueprint of the plant nursery marked by the income inspector is required.
Is GST necessary for plant nursery?
Yes, GST is necessary for doing business in India.
Is plant nursery a profitable business?
Yes, plant nursery is a profitable business in 2023 and in upcoming years. You can also get benefits from government schemes and subsidies for plants. By providing high-quality plants and maintaining professional behaviour with clients and punctuality in delivering plants and flowers you can create a difference and earn good revenue. 
How to start plant nursery business online in India?
Register your nursery with GST.
You should make an online app for a plant nursery and register the app in the play store.
You can create your plant nursery online store via Instamojo and Razorpay apps.
You should create your plant nursery website.
For selling plants on amazon, contact amazon business programmes.
You should use online apps such as mesho to sell plants online.
Use the Facebook marketplace to get online buyers for plants. 
Selling plants on Instagram is another online selling option. Build client relationships via Instagram reels.
Is it possible to use WhatsApp as a business?
Yes, you can use WhatsApp as a business for that you have to download a new app for Whatsapp business from the play store. Don't worry your personal WhatsApp will remain the same and there will be two WhatsApp in your mobile one is simple or personal and another is business. After installing WhatsApp business you can maintain the contact numbers of your clients separately in the WhatsApp business profile.
Thank You so much for giving your valuable time. Hope you got your answer, feel free to ask any query in the below comment box. You can share this article with your family and friends.
Read More