Hello, gardens while doing and searching garden best practices you must have seen people using techniques to grow plants in bottles. Do you know how they perform this, don't worry it's not that difficult only some care and technique are required. Let's check it out here.
How to grow Lemon Tree from cuttings in plastic bottle
First, take some mature lemon branches.
Cut the branches of 5 to 6 inches. 
Take a plastic bottle of 5 letters.
Now fill the half portion of the bottle with river sand.
You can use another plastic bottle for filling the sand in the first bottle and cut 2nd plastic bottle as a cone.
After filling the river sand making 2-3 holes at the bottom of the plastic bottle.
Now plant the branches into the bottle. However, due to the narrow neck, you might face little problems while planting lemon branches inside the bottle but you have to do it.
Insert the lemon branches into the bottle without forcing it hard.
Give good water to the branches on the first day. You can use a thin pipe for watering lemon cuttings.
Now, cap the bottle and keep it in a shady place for 15-16 days.
Keep giving water once a week, if the temperature is high then give water twice a week.
After 15 days you will see lemon branches sprouting, open the cap and cut the bottle top.
keep the lemon plant bottle in a shady place for 35-40 days.
Keep watering lemon plant once a week.
After 40 days you will see leaves are grown mature and sufficient roots have emerged from the branches.
Now your lemon plant is ready to plant in the main field. 
lemon tree growing in UK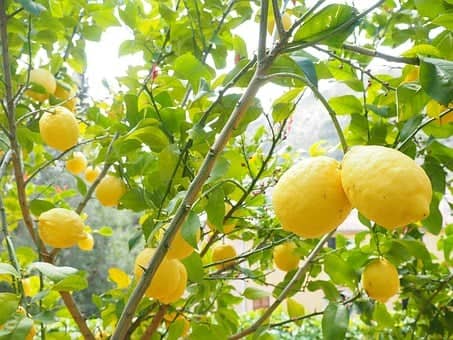 The lemon tree is soil friendly and can be grown almost in any soil. However, lemon plants prefer a loamy or sandy mixture having good drainage. Soil pH should be between 5.5 to 6.5 and this plant needs water once a week in a normal temperature area whereas it needs water twice a week in hot temperature regions. The lifespan of the lemon tree is 15 to 20 years and it takes around 3 years to grow mature whereas it needs 5 years to produce fruits commercially.
Check this out – How to grow a lemon tree from cuttings with a tissue paper
If you are growing a dwarf lemon tree in your home garden then it only needs 2.5 years to grow mature and it will start bearing some fruits from the 2nd year only. 25 degrees to 30 degrees is the ideal temperature for growing lemons in London. 1 single lemon tree can produce around 84 kg of lemons in the 5th year.
FAQ
When should I water my lemon plant and close the bottle?
You should water the lemon plant once a week and if the temperature is high then it is recommended to water it twice a week. 
After watering a lemon plant in a bottle where should I keep it? 
keep it in a shady place.
Which kind of sand should I use for growing lemon plants?
You can use a slightly yellow colour river sand for growing lemon plants easily in a plastic bottle.
From where I can get river sand?
You can collect river sand from buildings, bridges, flyovers, and park construction areas. You can also purchase it from a fertilizer shop.
Should I water daily or only the day I planted lemon sticks in the bottle?
Give water once a week to lemon sticks, if the temperature is high give water twice a week and after watering place it again in a shady area.
How many times should I give water to lemon plants in a day?
Water the plants only once a day i.e once a week. Water the plants twice a week if the temperature is high and keeps them in a shady place.
What is river sand?
It is thick and slightly yellowish colour sand used in construction work such as flyovers, parks and building construction, etc.
How long does it take to grow a lemon tree in UK?
Growing lemon tree from seed in the UK takes around 3 to 6 years and fruits start bearing on a commercial level around 5 years. However, the tree starts bearing a few fruits in the 2nd year itself.
Thank You – Hope you got what you are searching for. Feel free to ask any query related to lemon growing. You can share this informative article with your family, friends, relatives and neighbours.
Read More
How to grow a lemon tree from cuttings with a tissue paper
How to fertilize plants at home 
How to make compost at home step by step