Hello, farmers, you will be surprised after knowing that 1 Mahogany tree price can beat the price of gold, pf mutual funds and index funds. You might be investing in the gold and the share market but look at the past 10 years' price of mahogany trees and other assets.
While comparing 10 years of data the picture becomes clear let's make it crystal clear. 
Let's dive deeper into the tree pool.
1 Mahogany Tree Price Beats Gold PF Mutual Funds Index Funds
This post is written in very simple words to make you understand why and how 1 mahogany tree price is more than gold, mutual fund, equity, or PF.
If you are a safe investor who doesn't want to take any risk then you might be regularly investing in golds, provident funds and other post office schemes which might be giving you satisfactory results over the years. If you are an investor in the share market then you might be investing in equity cash, index funding or mutual funds. However, most people are unnecessarily scared while investing in share markets and this is because of a lack of knowledge.
Anyways, while calculating the income returns after 10 years from gold, PF and other post office schemes is not more than 7 to 9%. While calculating the income returns after 10 years by investing in the share market's index funding, mutual funds or any other funds are not more than 12% to 14% which is not less at all.
But did you ever calculate the income returns from trees? I guess not because while planning for investment people often think about gold, diamond, mutual funds, equity funds, post office rd, fd or real estate property. They never think that how huge income can be generated by investing in trees.
Explore – Mahogany Tree Plantation Project Report
10 gram of 24 karat gold price in 2012 was between Rs 26000 ($326.62) to 31050 (390.06 USD) and the gold price today is 53,705 INR ($674. 67). 
10-year-old Mahogany tree price in India is between Rs 15000 to 20000 and in one-acre mahogany, the plantation can be done with 1000 mahogany saplings. If the price of 10-year-old tree remains only Rs 10,000 then also the profit will be Rs 10,000 x 1000 trees = Rs 10000000 ($125624.70).
Rs 1 crore is really a massive income from a 1-acre farm and even after deducting the cost which might be not more than Rs 25 lakh. A farmer or investor can earn Rs 75 lakh by planting 1000 mahogany trees on 1-acre land. Now you can understand how profitable is mahogany farming and what kind of returns it is giving in 10 years slab. 
It's huge – Mahogany tree price after 10 years 15 years 25 years
Mahogany 5 in-1 automatic eBook available at top menu eBook option
Mahogany Tree Price vs Share Market And Gold Commodity
Look at this deeply
Gold price today in India is Rs 53705 if you will purchase 100-gram gold as an investment for the next 10 years then you have to invest Rs 537050. Look at the above paragraph in which it is clearly mentioned that the gold price in 2012 was around Rs 26000 and the gold price in 2022 is around Rs 53705 which means this commodity has taken 10 long years to double the money or investment.
With this scenario, if you are purchasing 100-gram gold by investing Rs 537050 then the gold price after 10 years or gold price in 2032 might be around Rs 1074100 which means your profit will be around Rs 5 lakh on 100-gram gold (24 karats). CNBC is the leading share market platform where experts share their views on the daily market. Feel free to ask any related query in the below-given comment box.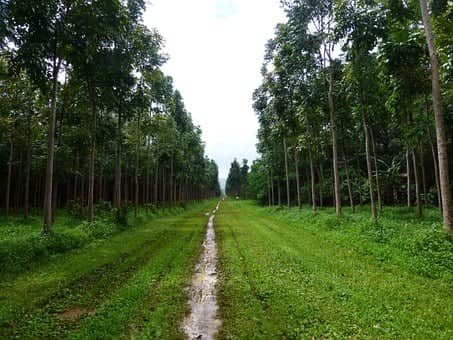 However, your long-term investment in the share market in index funding, equity and mutual funds will be more than the profit of gold commodity. PF investment will also give you secure and a decent profit after 10 years. But you must think once about tree investment especially some high-demanding trees like African mahogany, agarwood, sandalwood or even poplar trees can give huge returns after 8 years. 
If you will invest in a mahogany tree for the next 10 years then you have to arrange Rs 7 to Rs 8 lakh for 10 years which includes all farming costs such as drip irrigation, ground preparation, labor cost, barbed wire fencing cost, fertilizer and manure cost, plant protection cost, harvesting and transportation cost, miscellaneous cost. Today mahogany's price in India is between Rs 10,000 to Rs 35,000 and more depending on the cubic feet. Do you know why mahogany is so expensive click the link to explore?
Suppose you have planted 1000 mahogany plants on 1 acre of land and out of 1000 trees only 800 trees are in selling condition somehow you are just able to sell 1 mahogany tree after 10 years at Rs 10000 only then also you are getting more profit than gold or other assets.
Let's calculate this as well: 800 mahogany trees x Rs 10,000 = Rs 80 lakh and after deducting the cost which is Rs 8 lakh you will earn Rs 72 lakh from 1 acre. Remember I have only calculated 800 trees at the minimum price and the mahogany tree price after 10 years will be more than Rs 10,000. 
FAQ
How many mahogany trees can I plant per acre of land?
If you are looking mahogany tree plantation for profit then you should plant 1000 to 1200 mahogany saplings.
Which variety of mahogany is best to plant?
African mahogany has huge demand in the market due to its fast growth, natural shining and rot-resistance wood quality in comparison to other varieties.
Are mahogany trees fast-growing species?
Mahogany trees need at least 8 to 12 years to develop a decent sellable girth. They usually reach a height of 40 to 60 feet
What is the selling price of a mahogany tree?
Rs 10,000 to Rs 20,000 is the idle price for selling mahogany trees in the market.
How long do mahogany trees take to grow
Mahogany tree needs 10 years to build a sellable trunk and branches.
Is there any subsidy on the mahogany trees?
Is Mahogany Farming Profitable?
Yes, it is profitable farming and people can up to 1 crore after 10-12 years by planting 1000 trees.
Hope your query is solved here, you can share this important information.
Read More
Imp info about mahogany